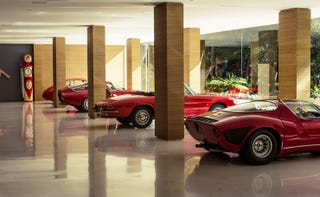 Here are the rules and please try to read them, and follow them you wise asses, this time.

1. Unlimited funds
2. All cars have to be the same make. No Lamborghini, Audi, VW, SEAT are not the same make just because they are all part of VAG. Same to Fiat-Chrysler and GM and everyone else.

3. Maintenance and parts costs are a non issue.

4. Any work required on the cars must be performed by you in your garage so even though you don't have to buy the parts you have to change the wiring harness on that tr6 yourself every six months.

5. You have an imaginary family with a spouse, 3 kids, 2 dogs, and an elderly mother in law. At least one of your cars has to facilitate them as well.

6. This garage is north of the Mason Dixon so you also need to plan for winter.

Go

EDIT: Can't believe I forgot to add a picture. People won't read things without pictures Sean.