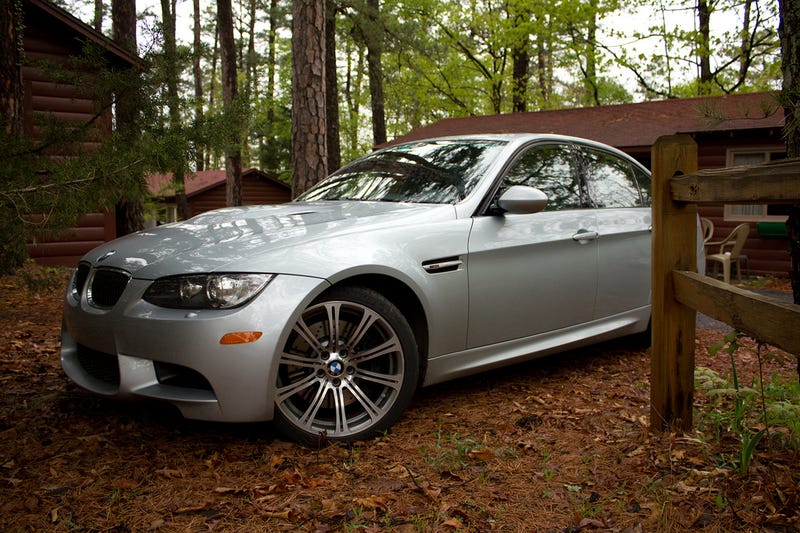 I got long-winded in a reply to Brian in his thread http://oppositelock.jalopnik.com/what-color-wou… and thought it was worth a larger discussion.
Here's the story about the car above (in which I brag shamelessly on my wife):
Truly a dream-come-true car for me. I honestly didn't think a car like this would be a possibility for me so early in my life (not I'm that young - 36), but my wife and I have been blessed with very good jobs and so when I was in the market a couple years ago to replace my '05 Mazda 3s hatch, I wrote down all my criteria I needed and wanted in a car, and the M3 kept popping up on my radar.
I still didn't think it was really an option, but then I came to the realization that depreciation had done its wonderful magic on the first year of E9x production. It was still considerably more than I'd planned to spend, but I told myself that I had to at least test-drive one or I'd never forgive myself.
Well, after the test drive, I was pretty much ruined. I didn't buy it on the spot, but it had my soul pining to get more of THAT on a regular basis. I crunched the numbers and talked to my wife about it, and I really have to give all the credit to her for convincing me to pull the trigger and get it. I'm generally so tight with money (I like the term "frugal") that I probably would have convinced myself not to buy it, but she basically told me that if I didn't get the car I wanted, I'd just end up regretting it down the road. So, yeah, I've got a good one...
And that's not all! The night I got back after buying the car (I drove ~4 hours to Dallas to get it), she sprung the news on me that she was pregnant with our third kid! She knew she was pregnant, but kept the news from me until I'd bought the car because she knew I wouldn't have bought it knowing we had another one on the way.
And now I have this amazing machine to drive and enjoy every day, and to inspire my little guy and his older siblings as "gearheads-in-training". And a pretty good story to go with it!
Since I bought the car, my wife has been supportive of me getting it out to the track a couple times, and also spring/fall trips with the guys to tear up the Ozark back roads. She started watching F1 with me last year, and as a gift, she's taking me to COTA for the US Grand Prix in November. Now I just have to convince her that it's a good use of family funds to get a full exhaust, a tune, dedicated track wheels and rubber... ha!
So, how about you, fellow Opponauts?
Do the people closest to you respect your love of cars and the culture?
...or do they just stare at you with a weird look and shake their head?