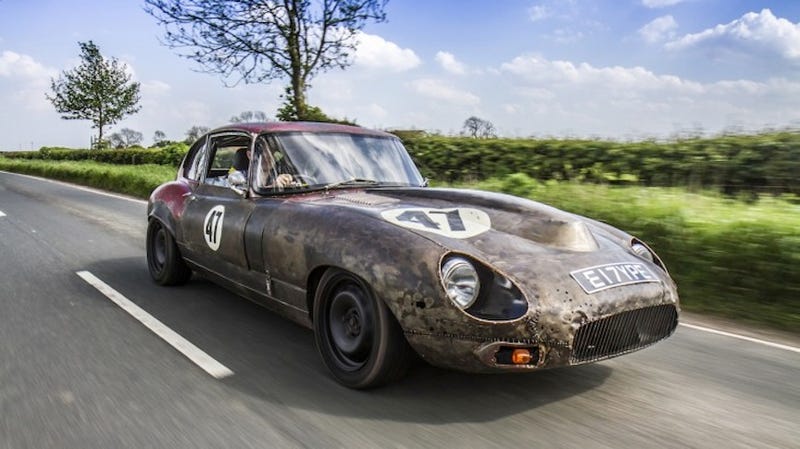 This thing. Not sure what to think of it.
When Richard Fairbairn acquired this Jaguar E-type it was nothing more than a decoration in someone's field; with no doors, no windows, no bonnet and no identity it had been left to dissolve and was well on its way. But Richard, no stranger to custom bikes and hotrods, saw his one chance to create a Frankenstein's monster from a national treasure and seized it.
Looks to be a series 1 2+2, but that's only from the firewall back. That bonnet looks like a series 3, though. Makes sense, since the story said the original was missing.
He probably grabbed the first one he could find. At this point, matching numbers anything really doesn't make much of a difference.
The rescued shell sat dormant while initial build plans were discarded and a Reliant Scimitar chassis came and went. It was when Richard met Mike Hill from Survivor Customs that the ball started rolling. Mike is undoubtedly a talented fabricator but importantly he had the artistic flair that Richard was looking for. When Richard was convinced that he and Mike were on the same page regarding the concept, Mike was given full creative control over the Jag. It then started to grow organically around Mike's day job.
Then it gets weird.
The most significant step forward was deciding on a donor vehicle. Mike purchased a BMW E30 Cabriolet from a friend, which proved to be an excellent starting point. The E30 Cab features particularly robust sills, which provided a solid point of contact for the frilly E-type shell. The engine in the BMW had already been replaced with the 24v, iron blocked M50 from the later E36, delivering 190bhp in standard trim. And most importantly, the dimensions in terms of wheelbase and track, were close enough to make it work with relatively minor modifications, despite Mike losing count of how many times he had to fit and remove the shell and bonnet.
There's more information about the build at the link below.
http://www.survivorcustoms.com/2014/11/the-su…
I like E-Types, so this should bother me. However, it was a left-for-dead 2+2 in a field that probably would have just rotted back into the earth if he didn't do anything with it.
I just hope he sold the rest of the car he didn't use.
So, what do we think?