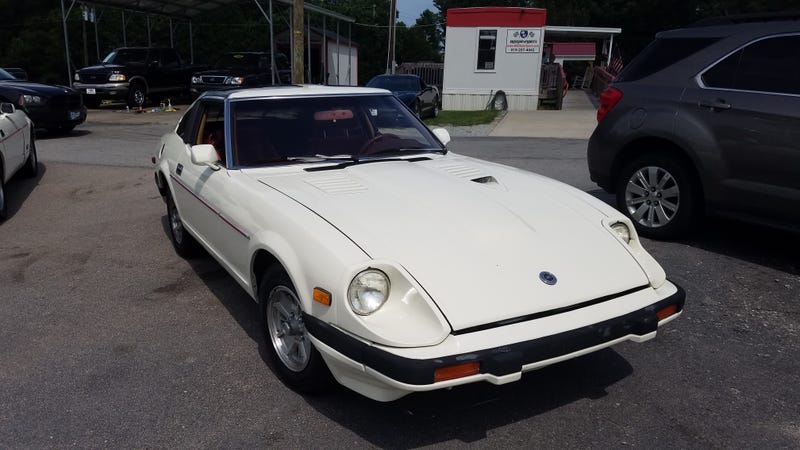 Yesterday, I shared photos of a very clean 1983 Datsun 280ZX that I went and looked at, with the promise that I was going to test drive it and report back at a later time. Well, I did. And the result saddened me.

From a cosmetic standpoint, this 1983 Datsun 280ZX is one of the cleanest that I have seen in quite a while. There were few imperfections in the paint, the interior looked showroom fresh, and the rear louvers were so retro. Mechanically, this 280ZX was in a way different state: a state of near disrepair.
We arrived at the dealer an hour before closing time, and the salesperson was really helpful. He was really into these vehicles, and could tell that we were also enthusiasts. Well, I couldn't really understand anything that the man said as he had the thickest Southern accent that I've heard in a while, but I could tell that he was into these cars.

Anyway, the car cranked over instantly...but it idled oddly high. That's fine. And the whole front end immediately started shaking. OK, that's not fine. So then we find out the AC doesn't work. Great. When turning out of the dealership, it becomes evident that the power steering is not in functioning order. Fantastic. Lastly, as we were accelerating down the nearby country road, there is an obvious lack of power. Well, this is a complete disappointment.

It was at this moment when we decided that this cosmetically beautiful 1983 Datsun 280ZX will not be finding it's way into my driveway. There's too much work that needs to be done, and none of us have the time or money to throw at it. It's really an unfortunate situation, as this is such a cosmetically clean, but is just faulted by it's many mechanical handicaps.
This doesn't change my opinions on the 280ZX, I still really want one, but I know that this straight-six GT car won't be coming my way for a while. And in all honesty, do drive your heros. Drive the hell out of them. Just go into it with an open mind, and don't be discouraged if there is a major issue.
I will never forget you, Datsun, and I will probably regret not purchasing you in a few yeaRS.