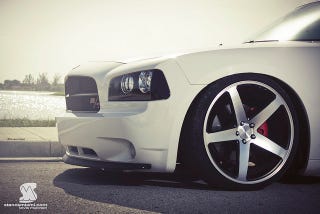 We posted the latest AutoMods article yesterday. Apparently alot of V6 Charger owners are disappointed with the power (shocking), so I churned out a basic intake/exhaust/tuner plug. Tomorrow's handling/brakes article will be more interesting.
Just wanted to remind everybody that you can win a $100 gift card from us if we pick your suggestion of what vehicle to virtually mod next. Just drop the comment, along with some way to get back to you, in any AutoMods article on our blog. We're picking the winner a week from Friday.
Yes, this is a shameless panhandle for traffic/comments, and if you don't like it...well... please let me know and I'll probably just stop.
Thanks!