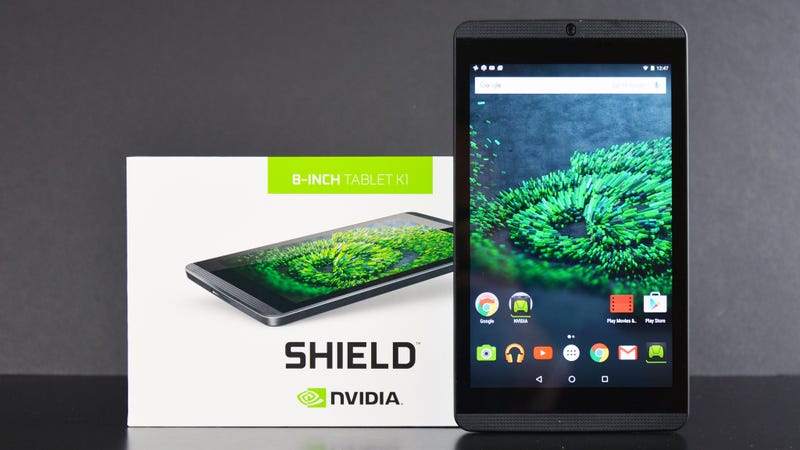 I had my eye on an Nvidia Shield K1 tablet for my wife. Not because she does any gaming, of course. Her super basic Acer 8" tablet is never getting updated from KitKat, and the K1 was a solid 8" Android tablet for a good price of $199. But now it's gone, and only available used on ebay for more than $199. Damn.
The Android tablet market is very much drying up, but my wife and I are both tablet fans. We have perfectly good phones and laptops but we enjoy the larger tablet screen for chilling on the couch or in bed. My Lenovo Yoga Tab 2 10" that I got a couple years ago isn't perfect, but sufficient. The screen is kinda mediocre, and the wifi and bluetooth are a little glitchy, but it works for casual web browsing, video streaming, and falling asleep to videos of Bob Ross painting.
I got my wife's tablet for like $120 a couple years ago, because she had an OG 2012 Nexus 7 that was rendered useless when updated to Android 5.1. The Acer was on sale at Best Buy and even though it has only 1 GB of RAM and a 720p screen, I figured it'd be good enough. But it's pretty damn slow and laggy now.
I don't need anything super fancy for her, but I'd like to get her an 8" Android tablet with at least 2 GB of RAM and a 1080p screen. The Shield K1 would've been perfect, and still could be depending on what kind of ebay deal I could score one at.
The only options right now that are readily available in the US are:
Asus Zenpad S 8.0 Z580C - $191 from B&H Photo 
This is an older model with a higher-end (for 2015 when it came out) Intel chip. There's an update to Android 6.0 that has to be applied manually. The reviews show has a high rate of motherboard failures, so I'm not seriously considering it.

Samsung Galaxy Tab S2 8.0 -$299 everywhere
It's fine enough but it's another hundred bucks above what the Shield K1 was. Darn. Also my wife likes stock Android because it's what she's used to, so I know adjusting to Samsung's UI and reversed back & multitasking buttons would annoy her.

Aside from grabbing a Shield K1 on ebay, there's also the option of getting a used Galaxy Tab S 8.4 in the ~$150-175 price range, but it has the same Samsung drawbacks.
Huawei makes assorted models that could be acceptable but none are readily available here.
Lenovo announced their Tab 4 series back in February, supposedly to be available in May, but they're still not out yet. The Tab 4 8 Plus has the same basic guts as my wife's Moto G5 Plus and would be totally fine for her. It's even supposed to be $199 like the Shield K1 was.
So....I'm gonna twiddle my thumbs and wait for Lenovo to hopefully start selling it while my wife laments her lack of a generally functional tablet.