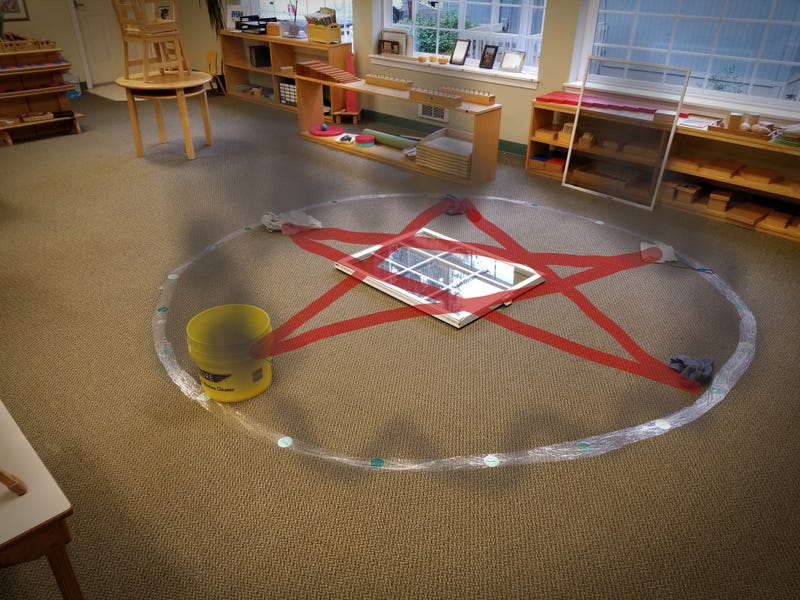 Cleaning the unholy mess left behind by a first grade class required every trick I know. Also, a quick review of a very nice private school. It's a shame public schools couldn't be more like this.
Let me just apologize for the semi-coherant "writing" below. I've got the flu, and kinja ate about half of this not once but twice, so it's a bit... Well. Disjointed. To say the least. Anyways, enjoy! And please comment/argue/praise below, I'd love to hear your thoughts on the topic!
I got a contract with a Montessori School a few years ago, and after seeing the entire property and talking to staff multiple times... I'm now a firm believer in this style of teaching. Full disclosure: for various reasons that I won't get into here, I've worked closely with dozens of schools in multiple districts, and a few hundred teachers, from elementary up to high school level, and those numbers continue to rise. So I'm about as entrenched in the public schools as one can be without teaching, and know a fair bit about most aspects of the educational system.
Okay, back to the Montessori! The guy in charge is incredibly passionate about what he does, which is to teach based on each individual students requirements, while focusing on sustainability, world cultures, and skills needed to be a genuinely happy and successful person. If this is sounding a bit too hippie for you, you'll be happy to know that the STEM programs here are absolutely incredible, with these young children having the opportunity to work with materials that aren't even commonly available at a high school level. It's amazing how great of a teaching environment you can make when your entire staff from administration to the teaching body works as a unified team. (basically limitless funding doesn't hurt either, I'm convinced that parents would flock to the school no matter the price of admission). I'm not sure what age students they take, but I think it's in the 3-12 year old range, spread out over 7 classrooms across 3 buildings.
Here's a quick summation of the teaching methods used by Montessori schools
First thing you'll see walking up is the animals. Animals everywhere. Dozens of rabbits, equally numerous turtles, a few tortoises, five goats, a few ducks, geese, lizards, snakes, hamsters, various other rodents, and a wildlife area with a wide assortment of local critters. I was told that land is being set up for horses in the near future, after being voted in by the current students (animals rotate in and out, based on what the students are interested in).
Next, you notice the playgrounds (multiple) that are all woven into the woods, in the form of tree houses with walkways, bridges, ropes, and tons of other handcrafted jungle gym equipment. While I was there, one of the two resident handymen was hard at work building a calisthenics bar setup (awesome!) and the other guy was setting up a permanent canvas cover over one entire playground area so the kid with sun allergies could still go out and play with everyone. This oobviously isn't a knock against the people working in the public school system but... Seeing the lengths this particular private school was willing to go to help out each kid on an individual level was absolutely beautiful.
Gardening is huge, with each student getting their own fruit trees and vegetable gardens to take care of. Neat. Cooking will be added with the next building.
Kinja ate the last three paragraphs because fuckin' Kinja... So I'll just leave you with this photodump. Oh, and all students have tools! Real tools! Soldering irons, Woodburning gear, screwdrivers, wrenches, nuts, bolts.... With which they build the chairs they sit on, numerous musical instruments, and basically whatever their heart desires. With such an abnormal (but so, so wonderful) learning experience, I wonder how these kids do when they graduate and go on to middle school. This particular Montessori seems to get new awards daily, so I would have to imagine the children aren't falling behind