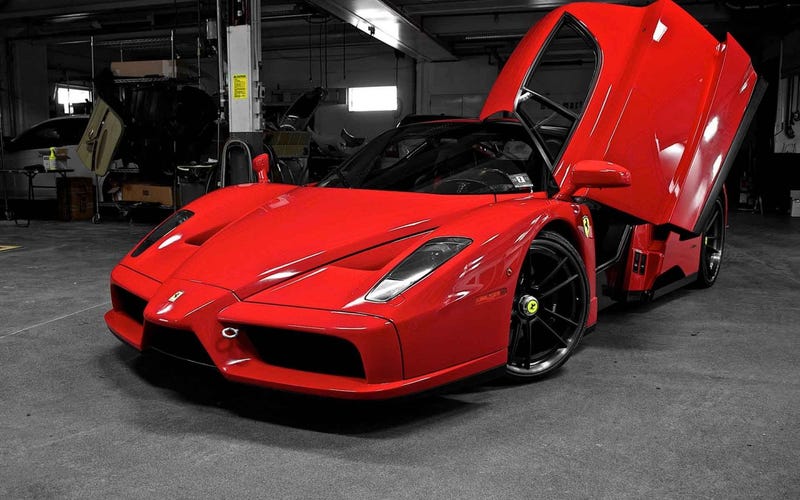 Aww the Enzo. The car that I consider to perfectly define a supercar. This is the car I grew up with on my bedroom wall, and one of the cars I remember very well from my youth. It at the time was a pinnacle of engineering, and it still is today 12 years later.
This is a new series I shall be writing going over every one of the cars in my current dream garage. All 231 of them(for now). This is a series inspired by HARRISON VOORHEES new series of Dream garages, which you can find here: http://oppositelock.jalopnik.com/dream-garage-b…
Now the Enzo is a car of many numbers.
6.0L V12 making 651 hp at 7,800 RPM, and 485 lb ft at 5,500 RPM with a 8,000 RPM redline.
Its original price of $659,330 is now nothing compared to usual trade price of 1 million+.
0-60 came in 3.2 Seconds, and it had a top speed upwards of 220 MPH.
In essence it was a super car in every way. Terrible teen-numbers of MPG, and completely impractical for anything more than a track day, or a Sunday drive. It was stripped out road going racer, which later became the platform for the Ferrari FXX, and the Maserati MC12.
If I was to acquire such a car, it would be one of the few I would leave completely stock. It is a maniac on the street, and a monster on the track. I would marvel at its beauty day and night. What more could you want.... Well if you did have all the money you can drive how it should be driven the same way these guys do here:
I would do the same wouldn't you?
Images: I take no credit for the images, but Google images has provided them for our needs.
Tell me what you guys think? Series yes/no?