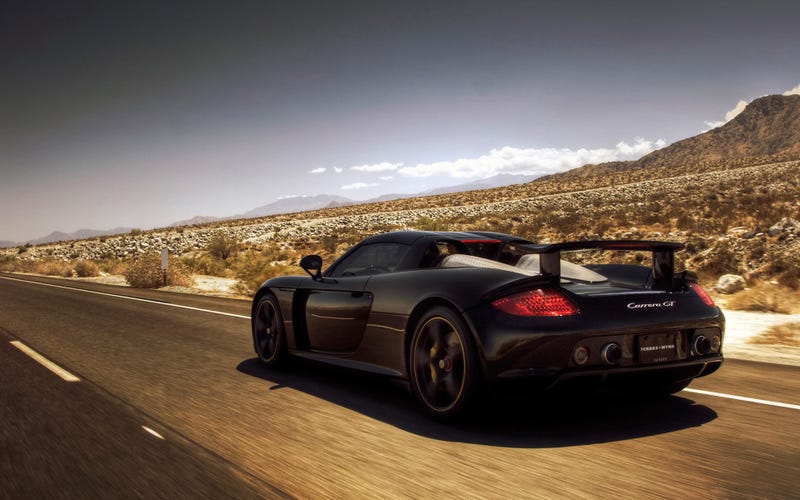 Earlier we visited the Ferrari Enzo. Now to something more vulgar....
The Carrera GT is what I consider to be a "Big Hammer" car. It has good handling, tremendous power and a good old manual gear box. It has a almost on/off style clutch, which requires Hercules strength to use properly. Even with all its technical advances in the brakes, clutch, engine, etc... at the end of the day you can put your foot down put it gear, and scream "big hammer" with the widest grin you can ever have. This is what I saw when I saw someone go through the first 2 gears from a stoplight in LA. As much as I usually can be annoyed, by doing such things in the city, I could not help but smile.
Its rivals are the Mclaren Mercedes SLR, and the Ferrari Enzo. What sets the Porsche apart is how simple it is. A big V10, a manual gearbox, a removable roof. What more could you want? Compared to the other too, the Porsche is the more back to basics car, and more of a "Big Hammer" car.
It's a car built with passion. That makes it a truly unique car, and worthy of a place in my garage. As much as I love to see new super quick gearboxes, something about simplicity gets to me. It separates the good from the bad, and can make you learn to be a real driver. That is the GT's magic. As Jeremy Clarkson once said:
"The clutch is brutal, the power is savage and the handling....you really are on a knife edge. But if you put in the effort boy, oh boy do you get the rewards"- Jeremy Clarkson
That's #2 of the big historic 3 for me in a couple days I shall release my favorite mid-engine super car of the 2000's.
PS: Tell me how you guys feel about the car, and my writing as I am trying to get better, and criticism is welcome. I want to see if I can actually get through the current 231 car Dream Garage.
PS:PS: Am I the only one who thinks targa tops are the best of both worlds?