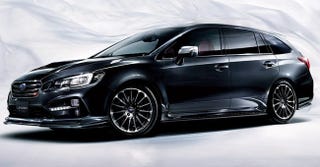 Today, Subaru has announced the release of the Levorg STI Sport.
Sounds promising, but it's like BMW's M Performance or Mercedes' AMG Sport. It still has a CVT and the stock engine choices with STI bumpers, badges and some fine tuning...which is a bit of a bombshell. If I was given a Levorg chassis, here's how my dream swap goes.
+
+
+
+
Imagine it now. Now, imagine it...in American shores...