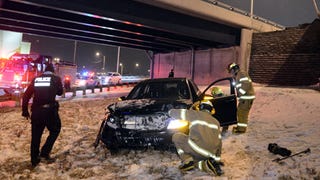 This is direct from Google Translate, so don't blame me for the bad English. (this time at least)
The woes of a mysterious driver in Dorval, late Tuesday, were surprising.
It fell from a ramp to the highway while he was driving a luxury car, which he abandoned after his fall.
(QMI Agency)
Shortly before midnight, the man was in a Mercedes, near avenues Marshall and Michel-Jasmin, when he tried to get on the 520 west. According to police, he was traveling in the opposite direction.
The driver would then, for some unknown reason, missed the ramp. "He fell down the exchanger, told Christine Coulombe, spokesman for the Sûreté du Québec (SQ). At the police arrived, there was nobody in the car. "
(QMI Agency)
Investigators assessed the height of the heat exchanger just over nine meters. The Mercedes was damaged, but was not a total loss.
The police were unable to say who owned the vehicle. "The investigation is underway to find the driver," said Ms. Coulombe.