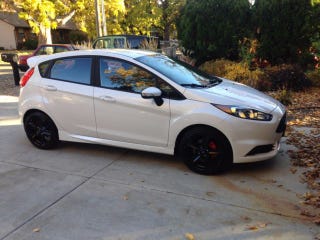 Went to a dealership to test drive a FiST. On my way there the Miata showed 0psi oil pressure for a few seconds so that was neat. Hopefully just a sender. Anyways. Drove a FiST since I happen to need reliable modern practical transportation that isn't an utter penalty box, despite a chorus of people telling me that a base Fiesta or a Honda Fit but I want a car I can keep for 6 years without being saddled with a total penalty-box.
Anyways.
Fiesta.
It did not disappoint.
Things I liked:
Speakers were adequate.

Exhaust was nice, slightly throatier than the Miata but the same volume

Power delivery was fun

Seats were okay

Surprising amount of room in the back seat and the hatch

False floor in the hatch was nifty

Shifter was surprisingly good

Wind noise on the highway was minimal

Automatic HVAC is the best invention ever.

Things I didn't like:
Drive by wire is dumb and I hate it how the hell do you heel toe one of these?

Holy MOTHER of A-pillars

Needs more turbo noises

But yeah. 10/10 would own.