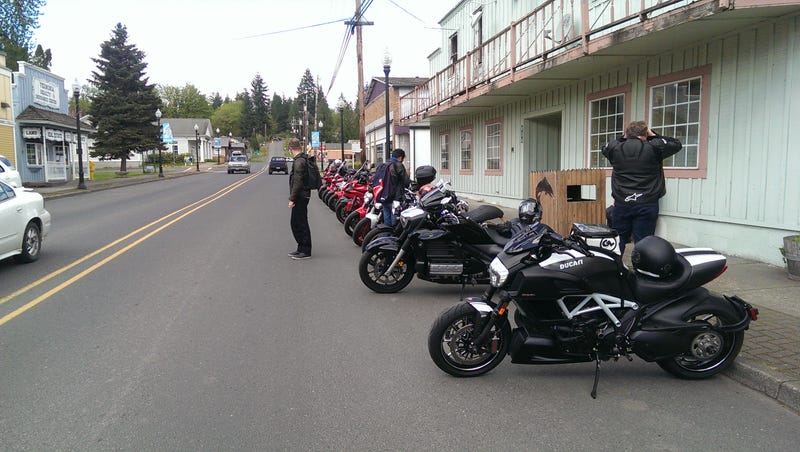 Let me make one thing clear first: I suck at taking pictures, taking good ones or even just taking any at all. So you only get this one. The ride was very similar to what I did myself the weekend before, link:
We met at a motorcycle oriented coffee shop, allegedly 40 bikes showed up, most everything else was more usual and newer stuff, but there were sine older ones and even *shudders* other brands. Lots of nice bikes and people.
We left in multiple groups at staggered starts so we wouldn't get separated or crowd the road too much.
Not even an hour into the ride and one guy fixated on on a controlled brush fire a couple hundred feet off the road, going into a curve. He went off and tried to correct, but the dirt on the side of the road was too soft and he went down hard. His nice, new Multistrada was totaled. Fortunately he was fully geared up and walked away. Went to the hospital to be safe, but he's good.
The club president, some guys from Motocorsa, and a couple others stayed with him until help arrived and everyone else went on ahead. That many bikes hanging out on the side of the road would have been dangerous and stressful, might as well move along.
Stopped for coffee and waited for those who hung back to catch up. Found a nail in one guy's tire so he ended up calling it quits for the day. We still had a few hundred miles to go so better safe than sorry.
Continuing on, we rode on a beautiful twisty road. And this is where guy #2 went down. Luckily it was a corner with a 20mph advisory speed. As fast as I know he just hit shone gravel at the edge of the road and low sided. Except for wearing regular jeans he was fully geared up. Guess where he was injured... On his left leg. Cuts, scrapes, road rash. Other than that, totally fine. His bike however, lost a mirror a broke the shift lever. Fortunately, he was able to continue riding.
Met up with the Seattle Ducati club at a brewpub for lunch. By my estimate there were probably at least 75 bikes there. It was awesome.
Other than that it was a great day! My monster is still kicking some ass. The GM of Motocorsa bought frozen custard for a bunch of us. It was good times. Oh, and he can out ride me by miles even when he was on the Terracorsa (Panigale with mud tires). He reminds me of the business tycoon guy in Jurassic World, the one who crashed while flying his helicopter, but hopefully without the crashing.