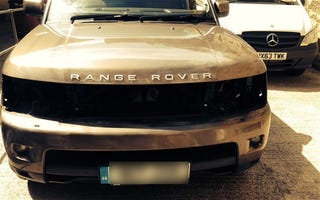 Gangs stealing LED lights from Range Rovers to grow cannabis
"Criminal gangs are stealing LED lights from luxury vehicles to use in cannabis factories, it has emerged.
Police are investigating a spate of thefts of headlights from Land Rover and Range Rover models, which are then sold to drug dealers who use them to help grow illegal plants.
The problem has become so bad in some parts of the country that police have launched an operation to advise car owners how best to protect their vehicles from thieves.
A special task force of officers in West Yorkshire has already made 14 arrests and a large number of stolen car parts have been recovered.
It is thought Land Rover and Range Rover vehicles are specifically being targeted because experienced thieves can remove light assemblies in as little as 60 seconds."
—Perhaps instead, taking said headlamps and selling them to be put back on different Rovers and using the proceeds to buy proper spectrum lights, what a bunch of hyp-
..
wait a second...
those lamps are pretty sophisticated..
will that work?