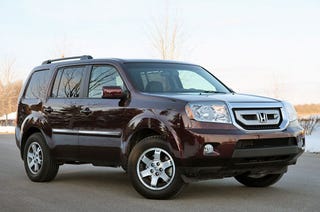 ...let me explain. (Background: client wants a CPO SUV prefers the Pilot)
Message from dealer-
For your new 2011 Honda Pilot LX AWD, BB061332, we'll honor the pricing of $22,499 for TODAY! My manager gave me this pricing and we'll honor it today because the used car manager will be back tomorrow and he may not honor that pricing.
Message from me to dealer-
He may or may not get there TODAY! Are you telling me that you might lose a sale because you quoted a price one day from one manager and the other less than 24hrs later might not be willing to honor that? Should I advise my client to take the ride into NY where he has a choice of 3 CPO 11 Pilot LXs all with similar miles to yours all guaranteed at 22k out the door with a price that is good today and tomorrow?
Your move...choose wisely (I didn't actually write that)