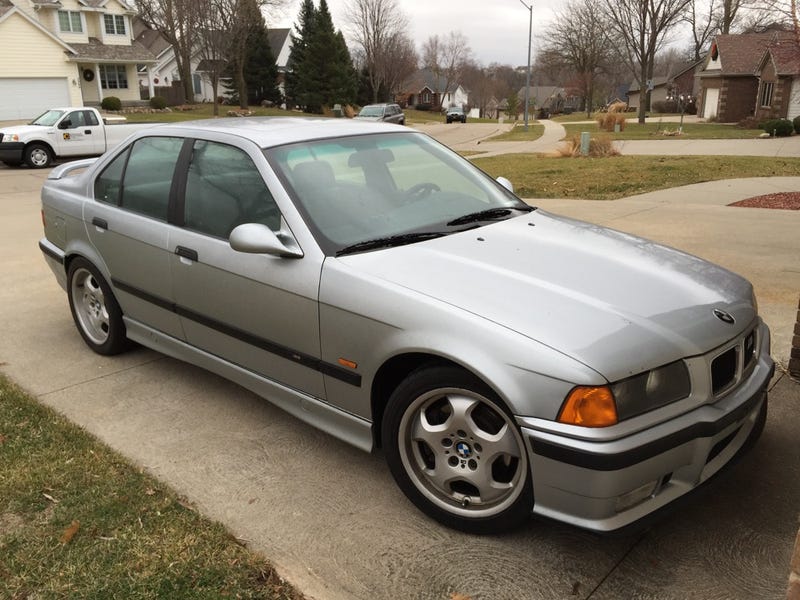 I bought an M3. It cost me $2450. What kind of M3 can you get for $2450? Not a good one, but an M3 nonetheless. Given that my super thorough pre-purchase inspection consisted entirely of looking at the car from several feet away and not questioning anything the seller said, I was in for some surprises when I got the car home and actually took a closer look.

My previous entries describe both the (potentially demented) thought process behind- and the actual process of- trading actual American dollars for a actual German car that didn't actually work. I knew it didn't actually work going in, but I didn't quite anticipate the level of…degredation…that was going to be so prevalent in the car. However, there were a few pleasant surprises along the way that eased the initial shock and pain.
---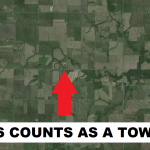 E36 V8 Swap Part 3: Buying the Donor –or- "How I followed every rule about buying a used car and still got a piece of junk."
---
Now the E30 M3 was little more than a homologation special built purely for the racetrack, and it showed – there was no mistaking an E30 M3 for its more tame 3-series counterparts. Likewise, the E46 M3 has more bumps, bulges, fender flares, and extra exhaust pipes than a Kia Spectra after a tornado smashed it into Autozone's "Appearance" aisle. It's visually distinct enough that even from a distance an E46 M3 won't be mistaken for your run-of-the-mill sorority-girl-special-325i. But the E36 M3 was very similar to the basic 3-series with only a few visual indications that it's something special. I'm okay with that.
The BMW is relieved to be back in suburbia, among its people.
This particular M3 is a 1997 model year, one of two years that Americans got the sedan (or "saloon", if you want people to know that you watch Top Gear and are also an obnoxious person). If you're super "hip" and "with it" on the BMW forums, you'll call this one an M3/4/5 (four door, five speed). Being able to use this numerically pleasing shorthand really eases the pain of not getting the 6-speed (and more powerful engine) of the European M3.
This M3 is also equipped with the luxury package, which consists of sideskirts from the non-M 3-series, no front lip like the regular M3 has, an odd front bumper with slats on it, probably heavier heated power seats, and ugly wood trim throughout the interior. Also chrome interior door handles. LUXURY. Fortunately, at some point this car got the regular M3 front bumper, complete with curb-checking lip and one busted fog light.
The fact that the front bumper was replaced at some point should probably be a red flag.
The Exterior
From several feet away it looks pretty good, right? When I began to look a little closer, however, the flaws started to become much more apparent. It had some rust. It looks like somebody caught the lip of the rear bumper with a running angle grinder cutoff wheel. The entire front bumper and fascia were covered in rock chips. And oh yeah, it had been repainted. Poorly.
I'm honestly not even sure how this would happen.
The Interior
Right, so the exterior's a bit of a mixed bag (the kind of mixed bag that's like 90% broken glass and 10% clear rock candy, maybe). How about the interior? Well the crown jewel of the inside of the car (I'm using the term "jewel" generously. Also "car.") is the faux-suede headliner the previous owner just had installed before selling me the car. It cost $500, which he mentioned several times as I looked over the body rust and listened to the engine make all kinds of horrible, awful noises at idle. I see nothing wrong with those priorities, and that definitely shouldn't have been yet another red flag.
He was a smoker and hadn't really taken the time to clean the ash out of the ashtrays or remove the stray butts from the driver's footwell or clean the hazy fog from each interior window, but he did install several different air fresheners in the vents. So instead of the car smelling like stale cigarette smoke, it smelled like stale cigarette smoke and some noxious, overpowering combination of whatever air freshener makers think fruits and flowers smell like. If that scent were marketed as a perfume, I can only assume it would be called Eau de Truck Stop Prostitute.
Also oh my Holy Mother of Rockford Fosgate so many RCA connectors. Like ten. Literally ten. Ten RCA connectors. I honestly have no idea what they were all for, or what the thought process was behind adding the last pair of wires.
Well I already have enough RCA cables to run eight channels of audio from my four channel stereo to the trunk, better add two more to make it an even ten channels of audio. From my four channel stereo into my four channel amp. Also I should probably install another air freshener.
The half-heartedly electrical-taped stereo harness adapter was a nice touch.
So there's some wear on both the driver's and passenger's bolsters, but we already established that this car wasn't well cared for, so no surprises there. I'm sure the guy was far too busy smoking, purchasing air fresheners, and installing RCA cables to worry about properly conditioning the fine German leather seats. After some time with the Shop-Vac and a little elbow grease, the interior cleaned up pretty nicely for the most part.
Nuts and Bolts
But what about the car's mechanical integrity? The guy I bought it from was really proud that it had never ever leaked a drop of oil, ignoring the splash of oil that appeared on the valve cover after our test drive and the glowing low oil pressure light. Maybe it never leaked a drop onto the ground, but plenty of it ended up on the front subframe.
Where'd the engine go?? Oh, that's for the next installment.
Also rust. There's…a lot of rust. Probably more than I should be comfortable with. But those are just the fenders, and they're non-structural so it doesn't really matter, right? Right??
But here's what surprised me. Mechanically speaking, it's like someone somewhere along the line knew what they were doing. Check these out:
Suspension mount reinforcement plates, front and rear. But of course they wouldn't fit in without some rust of their own.
According to the forums, the E36 was the first chassis BMW designed with CAD instead of "good old fashioned German engineering so that's why the chassis suspension mounting points tear apart under normal use" (I swear that's almost an exact quote). Also, the rear trailing arm bushings have too much play and can tear their mounts apart under normal everyday driving conditions, so "RTAB limiters" are a necessity, which this car already has.
RTABs, consider yourselves limited. Also, did I mention rust?
Next up, adjustable UUC sway bars front and rear ($350).
And Koni shocks in back ($250).
And all rubber brake lines replaced with braided stainless steel ($125).
Also rust.
And a stainless Borla catback ($775).
Slightly less rust.
And a decent set of projector headlights ($200).
All things I probably would have done myself, which makes the purchase price a little bit sweeter and helps make up for some of the…uh…less fortunate findings.
With the initial inspection complete, it was just about time to commence TEARDOWN and NEW ENGINE ASSEMBLY. Stay tuned! And before I forget, no summary of this car as I bought it would be complete without remembering this sticker on the rear passenger window.
Stay classy, everyone.
---
Catch my build thread here on Oppo with a new installment each Monday, or if you like spoilers check out MikaelVroom.com for the latest updates. Instagram me @MikaelVroom, I promise that any pictures I post of my welds will be the inch of bead that went well, not the six inches of bird poop.