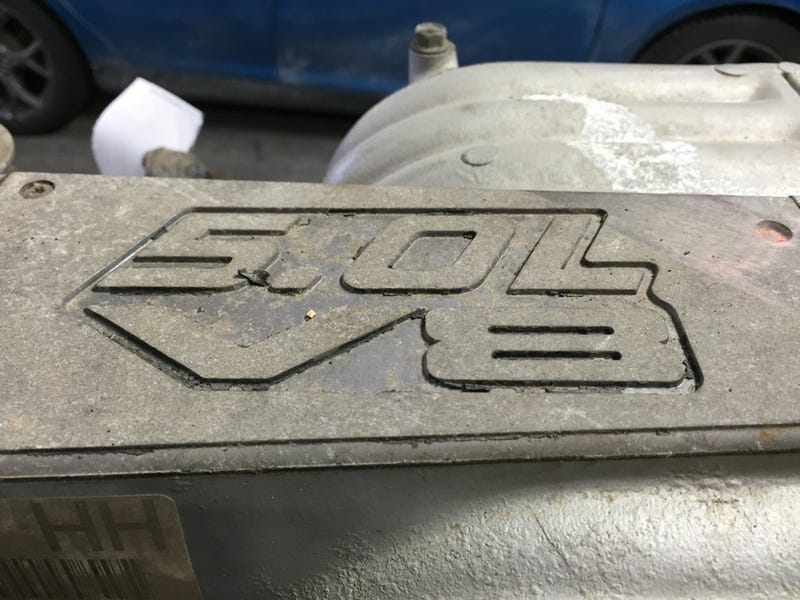 Many build logs have been written detailing impeccable craftsmanship, exquisite attention to detail, and unmatched performance. This is not one of those build logs. This is a continuation of my project involving shoving an outdated, underpowered engine into a rusty, beat up car. In the last installment, I detailed pulling the car's original, destroyed engine out.
---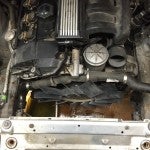 E36 V8 Swap Part 5: Donor Teardown –or- "Warning: Mechanical Gore Inside"

---
With the old, demolished engine out of the car it was time to prep the replacement engine. But wait a tick - what engine will be used in place of the German engineered-to-perfection-except-for-the-oil-pump-nut BMW inline six? In short, I did this whole thing backwards. A proper, well-thought-out car build would start with careful consideration and selection of the donor car after an exhaustive inspection of the donor's condition, intensive research into the most cost-effective, widely-supported modifications, and then throwing out the idea of doing an engine swap all together because it makes no sense. I did none of that. I started by buying an engine. Consider this installment a prequel to part 1.
A consequence of frequent travel for work is frequent downtime in hotels in various cities around the world. A savvy traveler would take advantage of that marvelous opportunity to explore a new city, see the sights, spend time getting to know the local people, customs, and food, and enriching his or her life through these experiences. Not me. I sit in my hotel room and browse Craigslist for cars with salvage titles. At some point, though, I must have gotten bored of Craigslist and ventured over to car-part.com, "Your #1 Resource for Finding Used Car Parts and Also Seeing if There are Enough Wrecked Ecoboost F150s Out There Yet So That Prices on the Twin Turbo 3.5 Have Come Down to Something Reasonable Now."
Out of the blue, I noticed that a wrecking yard about 30 miles away from home had a 5.0 engine from a '97 Explorer listed for $250. As soon as I could get home and borrow a trailer I immediately went up and bought it.
With core charges and tax and everything it came out to right around $300. Although I had no reason to own a V8 engine, I did. What does a $300 160,000 mile junkyard V8 look like? Just like this:
The Explorer engine actually has a few advantages when it comes to engine swaps. The front accessories are more compact than other 5.0 setups by an inch or two, buying space. The Explorer has a built-in 90 degree adapter/cooler for the oil filter making it fit within many cars' frame rails. The engine was set up for Ford's EDIS ignition so instead of a distributor it has a cam position sensor. On top of that, it has a 36-1 tooth crank VR sensor built in for aftermarket ECU flexibility.
The Explorer intake is considered to be roughly equivalent to the GT-40/Cobra intake that flows nearly as well as - and provides a broader powerband than - any aftermarket intake, and the Explorer engine came with either the GT40 or GT40P heads, which were arguably Ford's best factory head for the 5.0, standard on the '93 Cobra and Lightning.
Well, a couple weeks later I found myself in the Chicago area for work. Every day on the way to work I passed a place called "Pick N Pull." I'd heard rumors of the existence of these types of scrapyards - bring your own tools, pull your own parts, try not to get squished by a poorly-propped up car falling down on top of you. A quick perusal of their online price list let me know that I could get any manual transmission my heart desired for $100. So after work one day I stopped by, paid the nominal $2 entry fee, signed my life away on the waiver form, and took a look around.
I was in heaven. Busted up cars poorly propped up and ripe for some parts-pullin' (and possibly body-squishin') action.

Now I knew the only good option for a manual transmission compatible with my engine was a Mustang equipped with a T5 transmission. Viable candidates were available in the Mustang GT starting in the early '80s through '95, and in the V6 model between '94 and '04. They came in varying input shaft lengths, strengths, and gear ratio sets, noting that the '99-'04 V6 T5s were identical in strength to the '94-'95 V8 with the added bonus of an electronic speedo sender, at least according to the internet. On top of that, Any T5 behind a V6 is probably less abused than one behind a V8 car.
This Pick N Pull had a few Mustangs, but nothing with a manual transmission. Fortunately there was another location across town, so the next day after work I headed through the sketchy outskirts of Chicago during rush hour (like Harbor Freight, somehow wrecking yards are rarely in the nice parts of town) and found it with about 30 minutes until closing time. This one actually had two V6 Mustangs with manual transmissions - a '99 and an '04. Jackpot. Bingo. Shazam. Nailed it.
I left and went straight to the nearest Wal-Mart and bought a socket set, a pry-bar, and a crescent wrench. Perusal of several online "How do I pull my transmission" posts revealed that I'd need a 12mm 12-point socket to get the driveshaft bolts off of the rear end flange, so I grabbed one of those at Menards, along with a set of 3/8" u-joint attachments.
The next day after work I again had about a half hour until closing time. I was able to get the driveshaft pulled and three of the four transmission-to-bellhousing bolts pulled, most of which required getting the ratchet on the bolt, then lying on my back and furiously kicking at the ratchet handle until the bolts broke free, all the while hoping the car didn't fall down and slice me in half. The next day was my last day of work in Chicago and I finished up first thing in the morning, so I headed back to Pick N Pull for the third time. With the last bolt finally free, it was time for the transmission to drop.
It's story time. Back in high school I ran cross country. At the end of each day's workout we'd hit the weight room. On more than one occasion, the junior high girls would make fun of me because they were benching more than I was. That is the level of arm strength I'm working with. I'm probably stronger now than I was in high school, but when the internet tells me the T5 weighs about 75lbs, I'm not about to risk the integrity of my torso trying to prove my manliness by bench pressing an awkwardly-shaped oversized hulk of metal just to stick it to some junior high girls. So I put an old tire and a back seat from a Jetta directly under the transmission and yanked it straight back so that it would fall down onto my makeshift trampoline.
I nabbed the shifter, boot, crossmember, bolts, the electrical pigtails, threw it all into the wheelbarrow, and headed in to pay.
The total with core charges and everything was about $150.

Now I had a engine and a transmission, but no way to connect the two - the V6 and V8 bellhousings are different. The '94-up Mustangs used a longer input shaft (to place the shifter in the correct location for the redesigned '94-up cars), so using an '04 transmission behind the V8 meant I needed a '94-'95 V8 bellhousing, which typically go for $150 or more on eBay. Back to car-part.com. I found one in a nearby Omaha at a scrapyard listed for $100, so I called and had them ship it to me. As they were packing it up they saw what they thought were hairline fractures, so they gave it to me for $75. Turns out they were just casting marks. Score.
And for the next six months, the drivetrain sat in my garage, unsure of its fate.
Until one day when the perfect candidate for a V8 swap fell into my lap.

---
Catch my build thread here on Oppo with a new installment each Monday, or if you like spoilers check out MikaelVroom.com for the latest updates. Twitter me @MikaelVroom, Instagram me @MikaelVroom. My wife calls my Instagram feed "boring," which I take as a compliment.