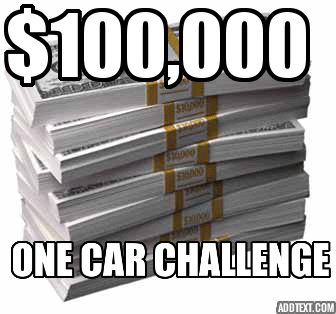 The $100,000 One-Car Challenge.
I've just won the lottery (let's imagine) and struck it big. You're my friend, but I'm also kind of a dick. So I came to you and said, "Hey, friend, here's one hundred thousand dollars for you to go and blow on a car, but there are some conditions..."

The Terms:
- whatever your current living condition, income, and car(s) you might own, these factors remain the same
- you have to spend all of it, there's no cash back
- new, old, off the lot or used... it's your call
- modded or stock are both allowed as long as you come in on budget
- every dollar goes to the car, not to buying or upgrading your garage or parking space
- YOU GET TO PICK ONE (1) CAR
- YOU CAN ONLY PICK (1) CAR
- but there is no limit to what you can do except the budget
- you can only reply once/no changing your mind when someone suggests something that makes you go, "But I wanted that!"
- if questioned; you may be forced to provide some evidence that yes, the car you want can be had on budget
- as much or as little detail as you want
- YES! YOU CAN, if you really want to, pick a car you presently own but you MUST be able to fit $100K into it (and not as dollar bills, yo!)

And then I'd say something like, "You've got two weeks..." or something like it, just because I'm not that patient a person and given an infinite amount of time that hundred grand could be stretched out.

What do you do?

WHAT DO YOU DO?