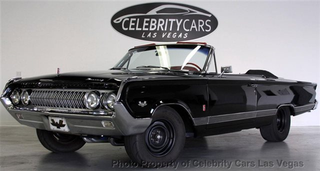 1964 Mercury Park Lane Convertible. But what makes this car special?
Yeah, it's got a hemi. 427 FUCKING CUBIC INCHES OF SOHC FREEDOM MOTHERFUCKING GOTDAMNIT.

NO ONE MAN SHOULD HAVE ALL THAT POWER

And that monster is backed up by a 5-speed manual and a 3.89 Detroit Locker in the rear.
Scare the shit out of 3 of you unbuckled in friends in style for $119,000