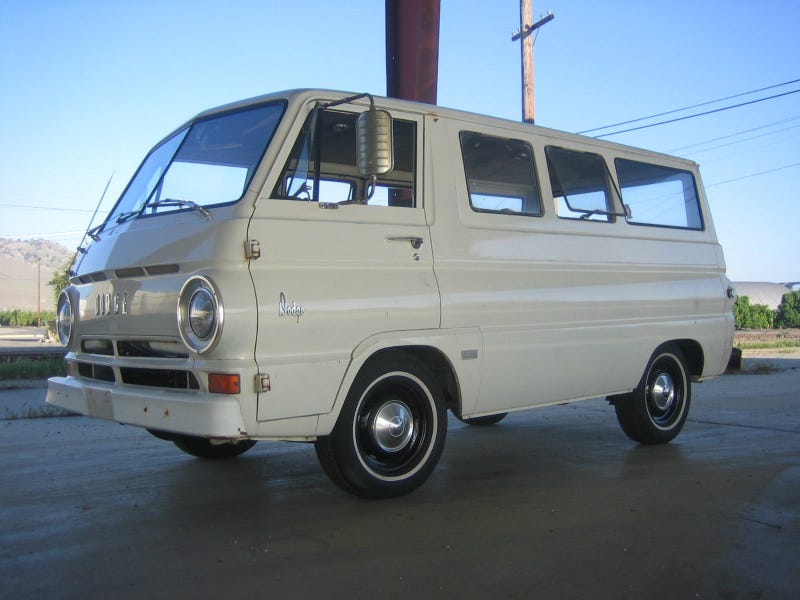 1965 Dodge A100, Slant 6 with 3 on the tree, 152,500 miles, Exeter, California, currently at $2,075 reserve not met with 6.5 Days remaining
This listing... is... great...:
"Where do i begin? Please note... i will be using a lot of corny car salesman terms... because this rig deserves it! FIRST and foremost...this van will NOT drive like a Honda... EVER... so if you have never owned a vintage car/truck/van... PLEASE come drive this mo-sheen before purchase. (:
THIS IS IT BOYS AND GIRLS! The low mileage... survivor/barn find Dodge A100 van of vans. It is in EXTREMELY nice condition for its year! All the photos speak for themselves. If your in the market for a Dodge window van either to restore or personalize and drive... this IS it. I am soooo stoked with this van, can you tell?
Original California BLACK plate registration with current and clean title. This 1965 Dodge van was found just outside the Mojave desert... so its SOOO dry. EXTREMELY rust free. Very low miles... aprox 152k.
Since discovered the A100 was treated to an extensive "resurrection" which included: pulling the engine for a reseal and replacing numerous parts to make it a sound driver. The original slant 6 cylinder runs like a sewing machine. Smoooooth.
NEW: Clutch. Pressure plate. Throw-out bearing. Alternator. regulator. Battery and cables. Water pump. Starter. fuel pump. Re-cored radiator. Rebuilt carb. Brake system was also redone. New: Master cylinder. All 4 wheel cylinders. All 3 soft lines. All 4 wheel cylinders and brake hardware.
Wheels are all original with correct stainless hub caps and a quick coat of black. Tires are recent thin white radials... but i would replace them with some correct period looking bias plys. The engine cover has been "rhino lined" on the inside for sound deadening... the exterior has been repainted black. The engine compartment has also been rewired. The front steering has been inspected and is original solid axle. It tracks and steers great. The rear axle has been inspected and serviced. Original "3 on the tree" three speed transmission shifts good and has no howling noises. The shift linkage on these vans is prone to wear out and cause a bit of issue. This one shifts just dandy. Shocks and exhaust are stock and still do their job.
EXTERIOR... so choice. YES there are a couple dents... please see photos. NEVER in an accident. This is ORIGINAL paint for this 1965 van. Its shines soooo nice. There is some excellent fade to the van including the driver rear corner where the SAND was regularly hitting... so it left some "history marks" on it. The remnants of the Torista window decals from way back are really neat. The left over remains of a large bumper sticker scarred the back cargo door.... gives it character. The roof gutters are very dry and show no rot. The roof shows wear through the white. Lower rockers and front doglegs are RUST FREE and you can still see the factory spot welds. Exterior mirrors are stock and unchanged over the years. Door gaps are good and doors don't sag.
INTERIOR: Cargo floor shows wear and use... but NO rot. Front floor is clean in the center BUT has a chunk of surface rust on the left side and right. Its been treated with POR15. The original dash board is UNCUT and beautiful... glove box needs the card board insert. All gauges work. Aftermarket turn signal assembly was installed some time ago and works good. Seats are re-upholstered in a basic grey. TWO freshly covered rear bench seats ARE included in the sale. They match the front seats. Original hard board headliner... is there and in tact... with plenty of wear. Interior lights are missing their covers.
Bumpers are NOT cherry... a little on the used side. BOTH original black California license plates are included.
All glass is present and there are no cracks. Windshield seals have been replaced along with the passenger side windshield glass. Driver side rear large glass does have the same "sandblasted" effect that the corner of the van shows. All door handles are really presentable and function right,
So take a look at all the photos. Please read through this whole description... then... if you still have a question... please email me. "