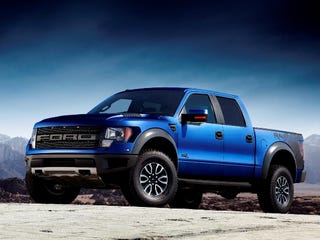 Posted this 1 year ago. Now it's here.
Now for the email I sent into tips email address that same day with the explanation. Guess we tip our caps to Matt Farah and the guys at \tuned for being ahead of the curve and for Ford for actually following through on something that consumers respond too.
PS Guess I should of said they tuned an rwd gated manual taurus wagon...
Date:

January 8, 2014 at 4:21:53 PM EST

To:

"tips@jalopnik.com" <Subject:Inside Info on the new ford raptor.>
"Hey guys,

I think I have some information (highly speculative) about the upcoming raptor from Ford. Don't get to too crazy...but it may have been indirectly inspired by Jalopnik/drive/tuned.

Over the summer I was out on eastern Long Island with a friend/client and his friend who I hadn't met before, he was visiting. He was at a private equity fund off shore fund and recently started working for Ford in a pretty senior role. We were talking about the absurd cost to rent large SUVs for the weekend in NY (rented suburban from hertz). Then he mentioned He had to sell his G55 because Ford only allows (suggests) you drive Ford when you work for them. What he basically got for free...Taurus 3.5 eco boost SHO and a raptor...

I immediately said "that sucks to lose a G wagon....but awesome you got 1 pretty good car and 1 awesome truck practically free."

Then I asked if he reads Jalopnik...he said "No. what's that?".

I said it's a website dedicated to all things car related and they just posted this video of a raptor that swapped in a tuned v6 Eco boost from a Taurus...and that I was I was surprised ford didn't come up with this because it's much easier to up performance (power and fuel economy) on turbo engine then on NA.

His jaw dropped.

I told him they tuned the engine and it makes about the same if not more power and is lighter and has better fuel economy. He made me send him the link on the spot. He Looked at me and said "we should be doing this."

Now this is highly speculative...but if it turns out that the new raptor went on a diet and has the v6 eco boost in it. Then I think we are also partially responsible..."