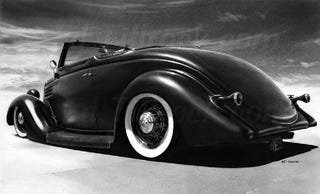 (I'd like to use this space over the next week or so to pimp some of my favorite hot rod artists, builders, friends. People you'll be better off for knowing, or at least knowing of!)

Ed Tillrock art "Pencil Specialist". Ed is one of my favorite people. Ever. Ed flippin' Tillrock.

There are folks who walk among us that don't really stick to the 5 senses, they have extra ordinary capabilities. The things that go off in our mortal brains to perceive and make sense of our world, they go off in their brains in a different way altogether. Typically I can understand a process, how a thing is done....I might not be able to do it, I might not even be able to explain it, but I get how it's possible. But not Ed's pencil drawings. He's got a "sixth" sense that a certain extreme minority among us have. He sees things that aren't there, and he can *not* draw those things so that we can see them. Make sense? Pry not. But it's my feeble attempt to describe what you just have to look at to appreciate. It's not just a realistic rendering, it's better than real. There's feeling. There's emotion. There's style. Things that a camera can't capture are captured, bits that a camera captures that it shouldn't are omitted. Scenes that our eyes and brain have difficulty processing in life, they're brilliantly portrayed in shades of grey. That's me, trying to explain that which I cannot comprehend. So you shouldn't listen to my jibberish, you should visit http://edtillrock.com/ for even more of his work.