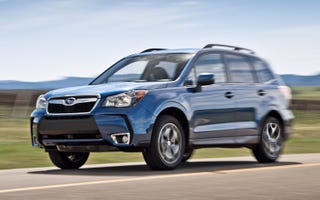 ...leaves out what is arguably the best crossover in the class. Look...buyers in this segment aren't super concerned about steering feel, and 0-60 times. They want stylish, safe, practical, reliable, and pretty good on gas. The Subaru Forester is one of the best selling and highest rated crossovers among its peers.
I don't really take issue with most of their recommendations, the CRV is a nice safe bet, the Rogue has some really cool features if you load it up, and the CX-5 is the Miata of crossovers. But the Soul? I get that it is the "value" proposition because it starts at under 15k. However, the Soul is really just a tall hatchback (edit: that doesn't even have AWD!), despite Kia categorizing it as a "crossover." Not to mention that the Subaru is the only compact SUV in the class with a legit AWD system, standard. The rest of these trucklets are FWD cars with the extra transfer case as an afterthought. I realize that most buyers don't care about this, but it is worth mentioning.
So how about this Edmunds...I'll give you the SOUL, but swap the Honda for the Subie.