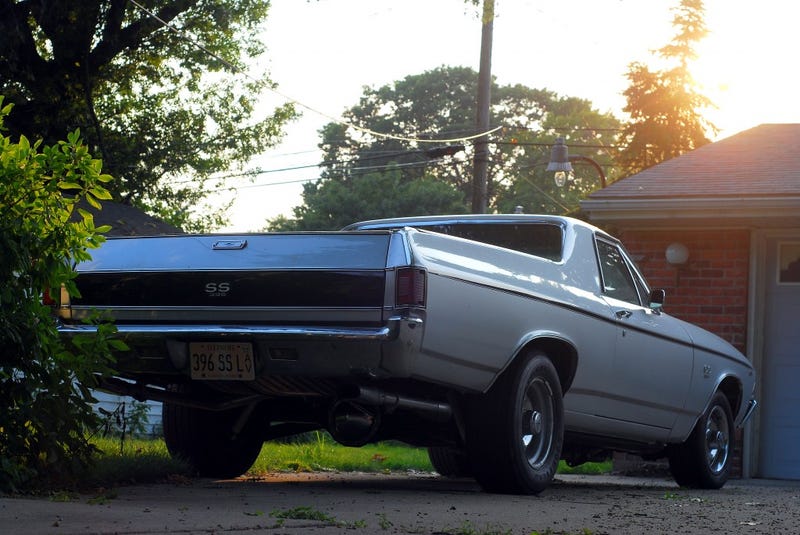 My introduction to the mythical El Camino was typical for the species. I had driven my 84 GTI - complete with its perpetual, post-precipitation door chime - 100 miles to State College, PA with three goals:
Visit my brother
Stop the door chime
Drive an El Camino
The owner of the El Camino, Mark, had recently driven his Malibu wagon with a 4-speed, side pipes, and racing seats, to Alabama, where he traded cars with his mom. With his move from grad school to a full time job in D.C. approaching, Mark resorted to the flexibility of his mom's offensively 80s El Camino to relocate his household belongings, and his Ducati.
Naturally, I expected a guy with a Ducati, an El Camino, and a simultaneously perplexing and pointless leg tattoo to want to trade me a drive in the El Camino for one in the GTI; we barraged downtown State College with the hubris of an uncorked small block Chevy, and I spent the next two years struggling to find a way to fit the automotive mullet into my life.
My dad, having driven the same El Camino to help my brother move apartments that summer, might not have looked back, were it not for a recent hankering for an 80s muscle car. You know, the kind of car that you vehemently defend to your friends – unsuccessfully.
Detroit harbors a disturbing reserve of gutless, low compression V8 disappointments, and my dad wanted to know how American muscle cars would feel if they started smoking cigarettes; I was deployed to a warehouse, where I was surrounded by 20 Trans Ams, within a week of my dad's new search. A few minutes later, I was yelling at Mr. Prolific Trans Am Curator to shut his engine off out of respect for the puddle of gasoline forming beneath the right header on his blue WS6 Trans Am.
We moved to the Camaro garage, where the scene was similar, but this time with 20 Camaros. Sampling one, I was impressed with the aura of the car, but as I watched the cowl induction hood flap actuate, I felt a drop in acceleration, as if the 305 lump could not offset the additional aerodynamic drag of the open scoop with the increased airflow.
I drove my 84 GTI back home with, I imagine, a perfect understanding of the 80s automotive landscape, and the revolutionary role of the hot hatch - hardly helpful, when my dad's goal was to procure a stake in American muscle.
And then, perhaps drawing on our immersion in State College 2 years prior, we began speaking Spanish: El Camino. Basically a Chevelle wagon with a perverse sense of utility, the El Camino is a more affordable entry into the factory hot rod Chevy market, conveying no pretenses of class, character, or common sense; the Blythbros. swiftly assembled to find our own.
The starkly contrarian demeanor of the trucklet body style atoned for our search subjects' forgettable performance specs. The hunt strayed disconcertingly deep into the 70s model years, because a 175hp 350 is suddenly tolerable when you tack on a pickup truck bed, a 4-speed, and some longtube headers. Also surprisingly tolerable was the prospect of trekking from Detroit to Wisconsin, with a stop to join friends in Peoria, IL, in pursuit of a 71 El Camino SS. Michigan, Indiana, Illinois, Wisconsin are all great states for nature's cruise control: sleeping at the wheel.
I rounded up my pristine SAE wrenches and sockets, various epoxies, silicones, and lubricants, and some screwdrivers, and hustled to Peoria in a rented Focus hatchback. The last time I saw my Peoria friends, Andrew and Jay, I ended up saddling my Alfa V6 on the garage floor and swinging its timing belt above my head like a lasso. There were no Italian cowboy antics in Peoria, but I did wake up at a donut shop at 5AM, leaving us with an hour to sleep before heading North to assess the Camino du Jour.
Predictably, the El Camino sat parked in the front lawn of the seller's house. My dad had spent the past week texting him – all caps from the seller – and as they got closer to a deal, a telephone call erupted. Unfortunately, the seller either cooking something loud, like 20 pounds of oysters continuously dropping into a wok, or cooking with Judas Priest screaming from the stereo, because my dad reported a significant amount of peaceful shouting. Since the seller had intended to skip the title, and my dad wanted a clean sale, they even negotiated for the seller to register the car in his name before selling.
Which wouldn't have been an issue, had we not noticed rust bubbling up from the B-pillars - which also wouldn't have been an issue, had we not picked up the seller – clad in jean shorts and a sleeveless shirt - from his buddy's garage 20 minutes away, and promised him a ride back. We skirted a conflagration with some firm direction: "My dad will not be purchasing your car, period. He understands the $1,000 expense associated with you registering the car in your name. You can work out how you want to handle the deposit with him, but we are driving you back now so that we can leave."
Silence. Then, relief.
In the 3 hours it took to drive from WI back to Peoria, my dad had struck a deal with the seller of a restored 68 El Camino 396 4-speed in 375hp L78 trim, located just an hour south of Peoria. Though severely compromised in its ability to serve the majority of drivers as basic transportation, this El Camino dared not compromise its credibility as a muscle car.
The car and seller checked out, I paid for the car, and it started to rain. In a herculean feat of self-preservation, I waited for the weather to clear before giving 4th gear the beans. The sensation was similar to leaving a parking lot at full throttle in my GTI. With the interstate clear and dried up, I repeated the act in third. The cabin, already receiving 4,000 RPM worth of big block cackle as a result of the 3.73 rear, erupted as I tached out the solid lifter V8. The rear tires put in a good effort, but were ultimately unsuccessful in transferring the wave of torque to the pavement.
Arriving in Peoria, I didn't bother to whip the car around the cloverleaf off ramp; I understood the muscle car. Andrew, Jay and I made use of the bench seat and headed out to the drive-in burger joint - a proper application of the El Camino. As we cruised in the most effective non-verbal pick-up line for men, we solicited plenty of attention on the main strip in Peoria. "Pump gas?" a trio of bros in a diesel truck inquired. "She cammed?" asked a dude in another diesel truck. As the night went on, we began to report "1968" to the car next to us at every stop light, out of reflex.
As I was about to leave Illinois, I attempted a burnout - out of respect - in Andrew's long driveway. Relative motion between the wheels and the wheel trim rings nearly severed the valve stems, leaving Andrew and me with the enviable task of finding a tire shop that was a) open on Sunday, and b) willing to replace valve stems on 15 year old tires. Andrew came through, and found what is likely the only shop in Peoria with those two qualifications, allowing me to proceed on my trip back to Detroit
Unfortunately, over the course of the 7 mpg haul, the ignition switch began to deteriorate to the point where I had to basically diesel the engine on starter fluid to overcome the lack of spark during starts. Not wanting to risk getting stranded, I made use of a Wendy's drive-through to re hydrate. And, when nature called, I went to nature, utilizing the state tree of Illinois, corn, to obscure myself while the El Camino thrummed away in a parking lot.
I made it as far as Chicago, where I planned to meet my friend Brad, before running the tank completely dry. AAA towed the car back to his apartment, and he sent me off in his Mini Cooper S JCW coupe. Brad can be real difficult.
The next weekend, my girlfriend and I rented a truck and tow dolly - a ritual at this point - and towed the car back home. I found a temporary fix for the ignition switch and set the valve lash in time for my dad and brother to visit for the weekend before dream cruise. As we turned the key to head off to Woodward, the starter died. It wasn't particularly easy to replace, owing to the finger contortion required to remove the header nuts. But, at midnight, we were ready to enjoy the fruits of our labor. We met a friend in Royal Oak and split drives between our El Camino and his Chevy V8 Porsche 944, relishing the absurdity of our cars.
I don't care much about numbers matching, original investment pieces. After watching fuel squirt from the factory original fuel hoses on the blue Trans Am, I think they are even a bit unsafe. But, I do appreciate and recognize muscle cars of any pedigree as an absolutely essential component to the enthusiast car spectrum. Hammer down.
Reposted for the work week.
Follow the BlythBros. on our site, or our facebook page!