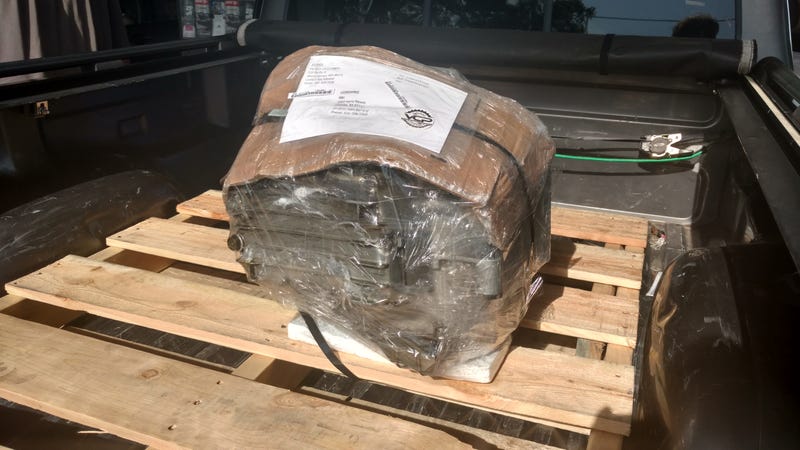 A pallet arrived today!
Shiny 12k mile engine overnighted from Japan from eBay. Appears to have a brand new valve cover gasket and stator, which is pretty cool. Super clean.
This was the easy part. Insert engine, rock back and forth until you can wiggle the long mount bolts through.
Putting the carbs in SUCKED. Super rock-hard carb boots make this job a royal pain in the ass involving a heat gun and much swearing.
This part also sucked. This exhaust is the biggest pain in the ass to put on and it leaks SUPER bad from the right head now. Going to buy/make a new gasket and see if that solves it... old one looked fine though. I'm afraid the issue might be a misalignment, possibly caused by the crossover pipes not properly mating together. Ugh.
Here's a fun one: the nuts for the bolts holding the front motor mount flange in place were completely missing! The weight of the engine was holding it together. Neato. Bought some nyloc nuts for that.
Started right up and ran. Has a super nasty exhaust leak I'll have to fix as well as a turn signal that needs replaced.
Time to remove engine: 2.5 hours. Time to install new engine: 6 hours. Was working from 6pm to midnight to get the stupid thing together in order to ride to work. Didn't end up riding it due to the things that still need doing, but hopefully I can figure something out after work today.