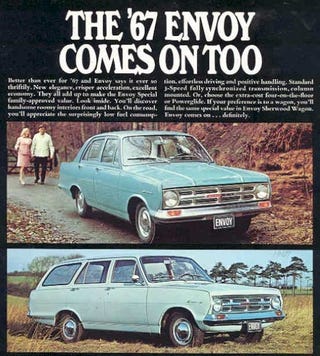 Acadian wasn't the only 60s GM brand created specifically for Canada. Meet Envoy.
Envoy, in short, was created to give Chevrolet dealers an import to sell. Pontiac/Buick/GMC dealers already sold Vauxhalls, so they just rebadged a few Vauxhalls and sold them as Envoys.
There were three, the small Viva-based Epic, which is the most known model. These weren't ever actually marketed as Envoys, they had Envoy badging, and the car is called the Envoy Epic. But GM just marketed as the "Epic". Sort of how in the 80s the Dodge/Plymouth/Mitsubishi Colt was just known as the Colt.
Then there was the Victor-based F-Series/Sherwood (For the early wagon.) This was the first Envoy sold, and was introduced in 1959. After the first generation, which was the only one actually known as the F-Series, it simply became known as the "Envoy, much like the Epic.
Then, to top things off, the Bedford CA was sold as an Envoy too.
Later on, the Victor and Bedford based models were discontinued, and the Epic soldiered on as the only Envoy. The Envoy marque was gone by 1970, and when the HC Viva was introduced, the Epic became the Firenza. No real relation to the Olds of the same name, and all models were sold as simply "Firenza". Also, they had a tendency to burst into flames!