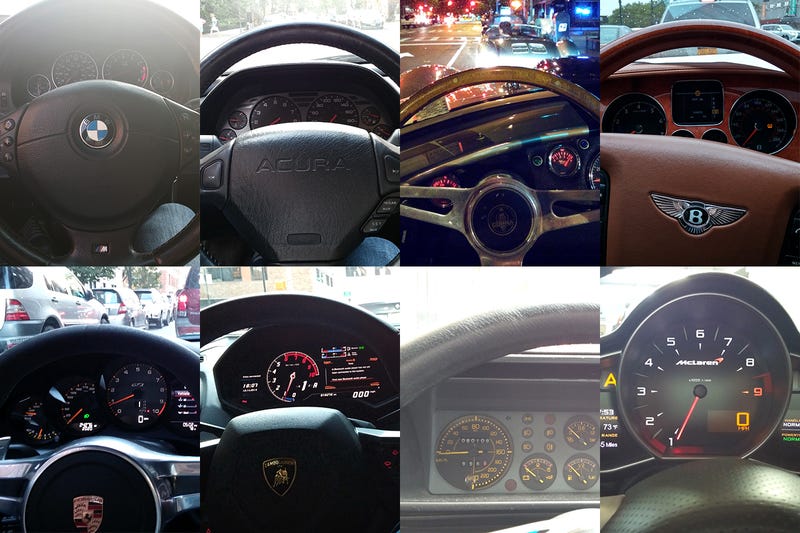 This morning I did what any decent architecture student in a class that has nothing to do with his major would do. I attempted to make a list of every car I've ever driven, and then arranged them into a clickbaity list format for your timewasting pleasure. I'm sure I'm forgetting a few, but here we go-
1. Acura NSX
There may never be a perfect car in this world, but the NSX is perfect to me.
2. Jag F-Type V8 Convertible
3. Porsche Cayman GT4
-Numbers 2 and 3 took some thought. With all the GT4 hype aside, I feel like I would have just a bit more fun in the Jag day to day. Obviously no one is going to cross-shop them, and I'm a bit weird regardless.
4. Shelby GT350
5. Datsun 240Z
6. Mclaren MP4-12C
-Also, very likely the fastest car I'll ever drive
7. Lamborghini Huracan
8. Aston Martin V8 Vantage
9. C7 Corvette Z06
-Would be higher, but it honestly has too much power. (That's why the GT350 is #4) The 7-speed manual is a bit annoying as well.
10. 991 Porsche GT3
11. e30 M3
-Yes, I put my childhood dream car as #11. Just goes to show that you shouldn't make assumptions about a car before driving it.
12. Shelby Cobra
13. 1963 Corvette Stingray Convertible.
-The coolest car by far, if not the best
14. Mercedes C63 AMG
15. e39 M5
-And yes, I put the C63 above the e39. Go cry about it.
16. Chevy C10
17. 2003 Mustang Mach 1
18. Honda S2000
19. 1993 Sentra SE-R
-The only one with my name on the title. It's my first car and I paid $2000 for it... The fact that it's even in the top half is a win unto itself.
20. BMW i8
21. Range Rover Sport (x2)
22. 1969 911T
-That's right, it's 22nd. Let the hate flow through you...
23. 1966 Mustang
24. Bentley GTC
25. Range Rover (Full size)
26. Porsche Panamera
27. Ford Explorer
-Way faster than it has any right to be, but still a Ford Explorer
28. 2009 Honda Fit
29. Ford Bronco
30. 2005 Civic Sedan (Manual)
31. Jeep Wrangler
32. 2015 VW Jetta (n/a, manual)
33. Fiat 500
-Test drove one when they first came out. Fun little cars, but the steering kills it. If I drove an Abarth I'd imagine it would be much much higher.
34. 2016 VW Jetta (1.8t, Auto)
35. 2009 Civic coupe (Auto)
36. 2013 Civic sedan (Auto)
37. My Roommate's 2000 Altima
38. Chrysler 200
-I'll be honest, I remember nothing about driving it. Let's be honest here though...
39. 90-something Corolla
-My friends first car; he beat the shit out of it and blew the motor, and them immediately bought a Mach 1 (#17)
40. Chevy Cobalt
-It's actually kind of a relief that this car is last; knowing that I'll never drive something as bad as that again.
All the stuff I couldn't rank:
There's a few other cars I've driven, but not enough to really form an opinion on-
-Dodge Charger SRT8 Superbee
-Lancia Delta Integrale
-Porsche 993 C4s
-Mercedes 300SL
-Ferrari 458 Spyder
Christ that took a while... Now you try!