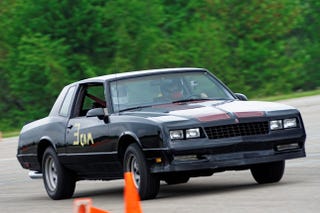 1. Paint is cracked on the roof.
2. Paint is cracked on the Urethane Nose
3. Driver seat belt retracter lever is broken
4. Leaky valve cover gaskets
5. Steering is a little light on center, most likely a worn out steering box.
6. Rust on the driver side rocker is getting really bad.
7. Rust on the bottom of both quarter panels is starting to show.
8. Separation of clear coat and base coat at stone chips at multiple places on the car.
9. bottom of the back panel on the deck lid bubbling.
10. Driveline vibration above 60mph
11. engine has low oil pressure (10psi) at an idle when hot
12. exhaust leak
13. heater is stuck on hot, even on 90 degree days
14. headliner sags
15. Posi differential is worn out.
16. Missing a trim piece on the rear window
17. brake pedal is inconsistent feeling - probably needs to be bled
18. seat bolsters are all broken down - have some 09 Imprezza seats to replace them, just need to fab up some brackets
19. Carb isn't tuned right
20. Tach reads about 800 RPM high above 3000 rpm.