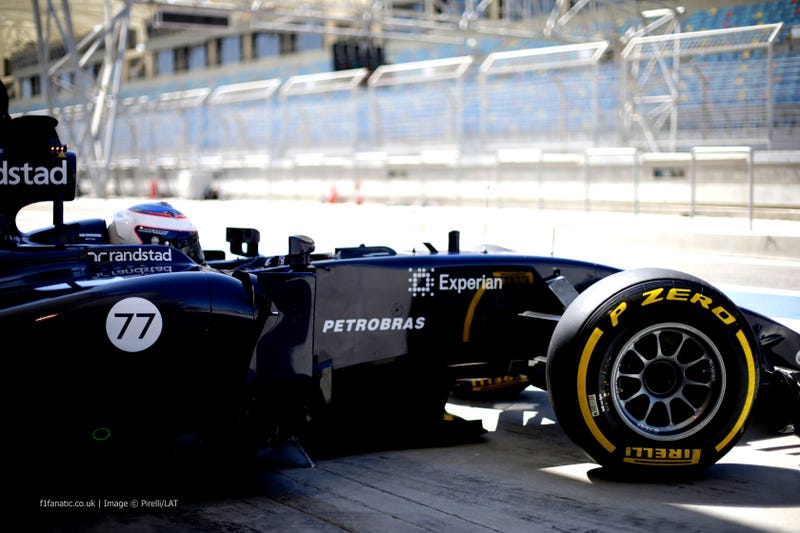 Before you and your pals go off knocking around the new 2014 Formula 1 chassis for being slow enough to stop the world, it may be best to attain some statistical data to back up your arguments.
What Changed in 2014?
In 2014, a new set of constraints breached the F1 teams and the cars they were producing. Notable changes include: a lower and potentially safer nose, a narrower front wing, a new mandated exhaust outlet position, a reduction in the allowable use of engines and gearboxes throughout the season, a fuel limit of 100kg, a fuel-pace limit, a 15,000 rpm rev limit, and a new power-unit comprised of a 1.6L turbo V6 mated with engineering magic to an electrical storage system that generates electricity from braking and by slowing the turbo off-throttle, capable preemptively spinning the turbo and directing approximately 160 bhp directly to the rear wheels for around 33 seconds of each lap.
These are all things that can potentially impede aero efficiency, downforce, sound quality, traction, tire degradation, looks, and most importantly speed. Some respected commentators predicted that these new 2014 F1 chassis would be up to a massive 6 seconds a lap slower than the outgoing F1 chassis.
At least, that's what we've heard...
How Much Slower are the 2014 Cars?
This chart from Auto Motor und Sport compares Nico Rosberg's pole lap of the Bahrain International Circuit to Felipe Massa's fastest lap from this year's pre-season testing in Bahrain. The 2014 Williams FW36 chassis is less than 1 second slower than last year's pole lap (.928 seconds slower to be exact).
More than likely, Felipe Massa was on a qualifying simulation when he set the 1:33.258 during pre-season testing, and this is only pre-season testing!
To put this into perspective, during the 2013 Qualifying session for the Bahrain Gran Prix, Valteri Bottas was eliminated in the FW35 Williams chassis in Q2 in P15 with a time of 1:34.105. If the 2014 Williams chassis were to compete in the 2013 Bahrain GP qualifying session, it would have finished in P9, but to be fair, the 2013 FW35 was a bit of a dog...
So while the 2014 F1 cars are only-just slower now, they definitely won't be in 6 months.
Where Do the 2014 Cars Make Up the Difference?
As you may have gathered from the table above, the 2014 chassis are much faster on the straights, but lose time in the corners.
While the engines themselves may be down on power (750bhp with the 2013 V8s compared to 700bhp with the 2014 Turbo V6s), the new V6s come with a severe increase in torque, are equipped with a turbo with no turbo-lag, and are matted to a massively powerful Energy Recover System (ERS).
The 2014 F1 chassis also suffer from a loss of downforce, mostly due to the loss of the blown diffuser and rear beam wing. The beam wing was important because it connected the upwash of air between the diffuser and the rear wing, effectively creating one large upwash; this has partially been mimicked in 2014 with teams blowing the exhaust just above or below a Y75 winglet (also commonly known as a Monkey Seat).
McLaren have offered an innovative solution to this problem by molding their rear wishbone suspension into what looks in cross-section much like a mushroom. This suspension does not create mechanical grip, as one may suspect, but instead creates an aerodynamic effect of increasing the low pressure just behind the diffuser, helping it create a larger upwash of air. The Woking team's solution is currently going by a few different names, some including Wishbone Wings, Butterfly Suspension, and Shroomspension. Only time will tell if the MP4-29's suspension solution is effective.
But how will the 2014 chassis make 'the show' better?
The 2014 Pirelli tire compounds are supposed to last longer in anticipation of the high torque output of the new engines, so we should see less tire conservation.
However, we will see a greater amount of fuel conservation, but the drivers inputs should remain in anger. The new power units are hooked up to a computer that will change engine maps; these will change throughout the race by a knob on the car's steering wheel at the engineers' request. We should see less driver-led conservation (short-shifting, less throttle pressure, etc), and more computer-led conservation and actual racing.
As for the sound? The 18s of thousands of RPMs have been axed in favor of fuel consumption, but while the sound level has decreased, the sound quality has greatly improved.
The only thing you really need to know: With the new "torquey" engines, more sliding will be initiated on corner exit; because of this, the Monaco Gran Prix should be the most exciting in years.
I sure am excited for 2014 F1 season, are you?
---
[Images from F1 Fanatic]