The Vespa is running again! They told me that nothing could get done before the middle of next week, and then called me today and said it was ready to go.
It is raining pretty steady outside, and I don't usually ride in this kind of weather. But I'm not having Christmas without my Vespa, so I'm waiting for a Lyft to take me so I can ride it home in the rain. I'm so happy. Have some Vespas while I go get mine. Italians make pretty machines.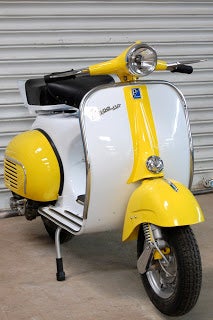 Mine will never make the list of most beautiful Vespas. It is an odd year and model that has a less popular body style, and there is no collector interest in them. I bought it as a cheap impulse buy, and it was well worn when i got it. But I love it and it is fun as hell.