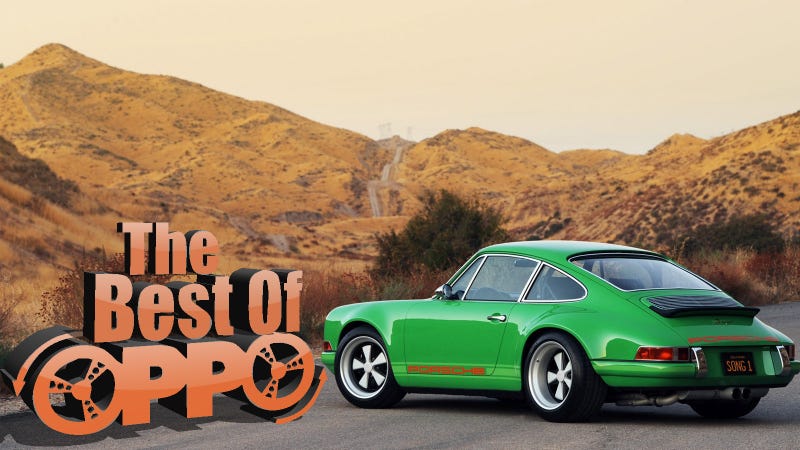 Gathered here are the Oppositelock posts that people have put a good deal of effort into writing from the last 24 hours. Today it includes driving a Honda HR-V in the Gobi desert, buying an e28, finding a couple of forgotten concept cars and more.
As Mongolia has the honor of being on Jalopnik's hardest countries to drive across list, I usually don't do any driving while I'm there visiting the in-laws. Actually, the real reason I don't drive in Mongolia isn't because of the road conditions, it's the other drivers themselves. Ulaanbaatar is an overly congested city with far too many cars for its poorly conceived infrastructure. Add to this that there seem to be few traffic rules and, well, Mongolians don't tend to follow rules anyway. Driving in the city is a stressful experience that I try to avoid.
Driving on the highway, and you're coming up on the car in front of you with maybe a 5-7mph differential, so you pull into the left lane to pass. The other driver takes this as a challenge to their dominance of the road, and so speeds up to now be going faster than you. "Okay," I usually think, "Maybe you just didn't notice the speed limit or something." So you pull back into the right lane. Within less than a minute, you're coming up on this person again. So you pull into the left lane to pass. Yep.
Last weekend I attended an Imagine Lifestyles Supercar Experience event at the Wells Fargo Center in Philadelphia. I drove two Ferraris and this is what it was all about… First, some background- Last Christmas my wife, who is awesome, came across a special via Living Social for to drive a Supercar on a racetrack with Imagine Lifestyles. That event was held at NJ Motorsports Park. I piloted a F430 Spyder, the downside was when I arrived, the track was wet from a recent rainstorm.
So yesterday, I was talking to someone that comes into my shop a lot and talks to my coworker about the WRX's they have. The individual in question (we'll call him Mr. WRX) knows that I have an interest in cars. Now a little back story about be first. I'm a Senior Airman (E-4) in the US Air Force. I have a wife and daughter (my daughters favorite things are cars, trucks and planes and at 2 years old, I think I'm doing good).
I recently moved from Chicago to Flint, Michigan, and have been car-less for a while. I never had room for a car back home. But now I do, and I'm in a car-rich area. And so, as you can probably imagine, it didn't take long for me to end up with a car. And boy, I ended up with more than a car. I ended up with an adventure.
.
Most people reading this article would probably say that they wouldn't mind (or would even enjoy) owning a super car. Or two, or three, or four. I know that on my part, at least, a Ferrari 250 GTL wouldn't be kicked out of bed. A 458 could be nice, as well. But how can I possibly buy and enjoy these sorts of cars in good conscience?
When I first quit my job back in 2009 I wanted to take some of my friends racing that didnt have a license so we bought a 750il and caged it and ran the 24hr race at nelson ledges back in 2009. A lot of the people dropped out so Sam Smith and I towed it to the track and met up with John Ackerman for a total team of three. We decided to blow off the race and simply go out at night. back in 2009 they were crushing cars at every race and we were sure our 750il would be a strong crushing candidate.
In a feature published yesterday by Car and Driver, author Alex Taylor provides an overview of Ford Motor Co's 5-year plan for revitalizing the Lincoln brand for the US market. As Taylor notes, this has been on Ford's "to do" list for over a decade now as the division has been on a losing skid since the late 90s. Sure Lincoln had some hits in the 90s and early 00s with the Navigator–a perennial best seller from inception in 1999 until about 2004–and the LS, but with the exception of the Town Car which accounted for well over half of total Lincoln sales in the first six months of 2006–the year it was axed–there has not been another Lincoln that has even come close to pacing it's closest domestic rival, Cadillac, nor has even been in the same universe as the likes of Mercedes or BMW.
A few years back I was doing some contract work at a larger dealership. I was working in one of the dealer's compounds and needed to find a power source so was wandering through some old, unused bays looking for an electrical outlet when I came across these. Standing in front of me were two Ford prototypes that had made the autoshow circuit many years ago and were now sitting in a corner collecting dust.
When I was little, my main attraction to cars came from their aesthetics. At a young age, in intervals between shitting myself and drooling over light-up sneakers, I found time to lust after the real-life versions of the toys that made their way into my house. I didn't know anything about them beyond whether or not I liked their design; somehow, though, that was enough to get me thoroughly engrossed.
I instructed The Boy to take his car to a very highly-rated shop down the street to get an estimate. After much research on parts (closest door is in Louisiana), they came back with $5,500 to repair. The neighbor's insurance company (21st Century) then told him he had to talk it to another shop (that they named) to get another estimate to see if it was close. I then told him "The fuck you do!"
The question was asked, what is the greatest all-round car? Here is my answer from that discussion: The Porsche Panamera. Any model. I've driven the Panamera (V6 and 4S). It's insanely good. It handles better than anything with four doors ought to handle, including the M3.
Car Spotting, Picture Threads
Gabe Rios posted some pictures of his and his dads 1966 VW Beetle. Dsscats did a bunch of carspotting and made a photo dump. Agrajag spent some more time repairing rust on his W123. Z_Stig reminisced about the cars he used to drive. ssm-one saw a MANni Volkswagen 8.150 FAE Expedition Vehicle in a parking lot and told us about it. He also shared the story of his 1990 Mustang 5.0LX notchback.
As always, If I've missed something and you would like me to include it, let me know.
Fun Discussions
There were several posts that asked questions and sparked some good discussion over the last day. Take a peek and chime in on some of them listed below:
Just the #tips
Honourable Mentions
These posts have already been shared with Jalopnik directly but deserve to be mentioned again because they were first posted in Oppositelock: