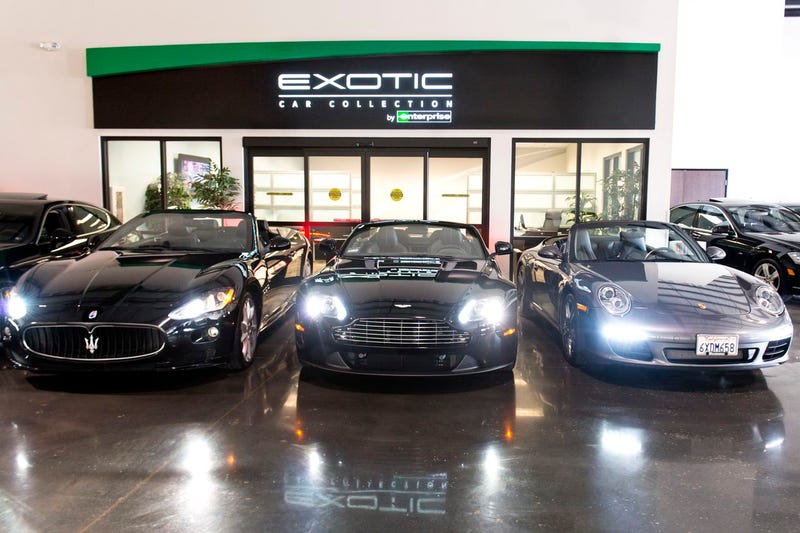 With Valentines day coming up, I've been wanting to rent a luxury car for a San Diego getaway. My girl doesn't (annoyingly) really care for the Mustang, so I've been thinking about something comfortable and luxurious. And with a lot of Turo owners on some bullshit, I looked into something I had no idea was offered: Exotic Car Collection by Enterprise.
Its exactly what it sounds like, an exotic car collection, rather what they think exotics are, offered by national rental company Enterprise. Only offered in 19 states and Canada (Toronto) in major cities or metropolitan areas, they offer luxury rentals. But as the name suggest, many of the models they have aren't "exotic", but rather mainstream luxury cars that many people making good money own. IN fact, the only exotics they have are the Lamborghini Huracan, Maybach S600, Maserati GranTurismo Ferrari California, Audi R8 convertible,BMW i8, Bentley Continental GT, and the Aston Martin DB9 coupe and Convertible and the Rapide. Everything else is nice but hardly exotic:
Audi: A5,A6,A7,A8L,Q5,Q7,TT
BMW: 640 GC and Convertible,740Li/750Li,X5,Z4
Cadillac: Escalade and ESV (because of course they would. No V series cars at all)
Chevy: Camaro SS,Corvette coupe and convertible
Ford: Mustang GT 
GMC: Yukon Denali (why?)
Infiniti: QX80 (another why) 
Jaguar: F Type Coupe, Convertible and SVR in both coupe and convertible (surprisingly),XF (they make it a point to say that its the 4 cylinder model for some reason) XJL (and weirdly, the XKR is still on their site)
Jeep: Wrangler Sahara (another why)
Land Rover: Range Rover Evoque, Range Rover and Sport
Lexus: GS and LS
Lincoln: Navigator and L
Maserati: Ghibli, Quattroporte
Mercedes: CLS,E class sedan and convertible in bother E350 and E400, GLE,GLS, G,S ,SL, Sprinter Van
Porsche: 718, 911 Carrera, Cayenne,Cayman,Macan, Panamera and Panamera S, 
Tesla: Model S and X 
Toyota: Land Cruiser
Its an ok list. Nothing to get floored over if you're a car guy. I was surprised at the availability of the Lambo and Maybach S600. But to rent any of these, you cant just go down to your local Enterprise or airport and go from there. Nope. Like anything pandering to people with money, to give off some attempt at exclusivity, you have to reach out to them for a quote.
So to start, you can choose however many cars you want a quote on and their rep will respond back to you by email with prices and mileage. So I reached out to my nearest location for quotes on the A8L,both the Escalade in standard and ESV lengths, Range Rover Sport and the GLS. I reached out to them with the cars I specified and a rental length of 4 days. Here's where I got turned off. 
The pricing is terrible for one. The A8L and the ESV were $375 bucks. The RR sport was $350/day. The standard wheelbase Escalade is $300/day and the GLS is $250/day. The real kicker? All the cars get only 150 miles a day with the exception of the GLS which for some reason gets a whopping 175 miles/day. There's also qualifications that you as a driver have to meet.
While Turo will have coverage provided by the owner of the vehicle that automatically comes with the rental, you, the driver, have show proof of full coverage insurance. Why that is I'm not sure but it could have something to do with the higher end nature of the vehicles being rented. On top of all this, you have to have a security deposit plus the total rental cost on your credit card. But security deposits vary based on the vehicle. That tells me a Mustang GT isnt going to have as a big as a deposit as a F Type SVR. 
Suffice to say, I wont be renting from Enterprise and their so called exotics.