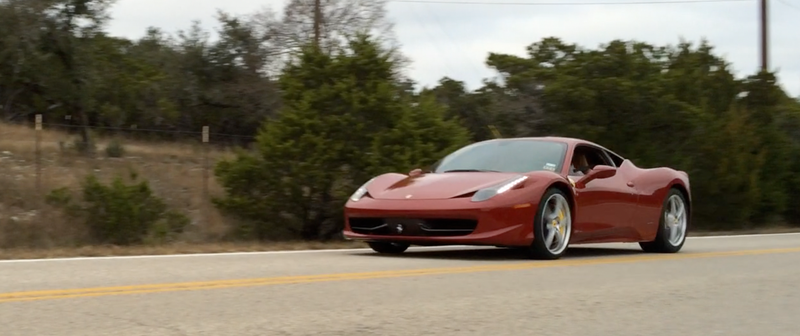 During the entire time that the owner of this beautiful Ferrari 458 and I were hanging out in his garage chatting, I couldn't help but stare at the car.
The 458 is so gorgeous that it's tough to peel your eyes away from it - especially when the recessed lighting in the ceiling of the garage made the red Ferrari sparkle.
There is so much to admire about this beautifully designed 458.
You have probably already noticed this, but right next to the Ferrari is a pristine Miata. It's all original and has been in the possession of the owners for over 20 years!
Now here are some folks that are true enthusiasts - a Miata and a Ferrari sharing the same garage. This represents not just a desire to purchase high-end expensive exotics but a general all-around appreciation of great automobiles.
The main reason the 458 is sitting here is because a few years ago while the owner was on vacation (ok, I should really give the owner a name - his name's Joe), he got a glimpse of the car on the cover of a magazine and fell in love with it. Soon after, months of research ensued followed by Joe placing an order with the dealer to obtain very first Ferrari.
That's right - the 458 was Joe's first Ferrari.
Now, Joe doesn't buy a car every day. In fact, the last time he bought a new car was in 1991 when he got a 300ZX twin turbo. Going from that to a 458?
Now that's quite an upgrade.
The Interior
As you would expect with a supercar of this caliber, everything inside the car is high quality and very nicely done. However, the car isn't filled to the brim with luxuries - like having a media center, for instance, with a 10 inch screen located in the center console with hundreds of buttons and switches.
Ferrari has designed this car with the driver in mind. It really is all about the ultimate driving experience and that made me think…is the passenger seat really even necessary?
I guess it is actually good to have a seat in the car for your spouse when you have to explain to her/him why you bought the Ferrari instead of the vacation home in Amsterdam.
The 458 seats are designed for racing purposes and has the support you need when flying around turns but they're not exactly meant for long road trips. They had just enough padding to not make sitting uncomfortable.
This dial caught me by surprise - pit speed.
Seriously? There is a way to control your speed in pit lane??
Nope. This is actually cruise control which doesn't come standard on the 458. It was a "special" option that needed to be purchased.
Imagine that. You would probably only expect this in a Ferrari.
Now this was a button that Joe specially ordered that's actually pretty useful.
Push the button and the car lifts up so that you can clear some of the steeper inclines. You wouldn't want to scrape the front end of this car going up a driveway - that would be so painful.
The Steering Wheel
The 458 has the coolest steering wheel I've ever seen. It can do everything.
It reminded me of an F1 wheel - a much simpler version of it, of course.
There were no stalks poking out from behind the steering wheel.
All of your essential functionality was included on the wheel - you can start the engine, turn on the wipers, fire missiles, turn off traction control, become invisible, turn on the signals. Yes, you can do it all.
It's clear that Ferrari means business with this car. There's no time to mess with buttons or stalks or anything that is not located on the steering wheel while you're taking that turn at 100 mph.
Must…
Focus…
On driving…
Which brings me to the actual drive.
The Drive
I think I had this misconception in my head that Ferraris would be actually more comfortable than they are. But they're not.
You see, the 458 is actually a slightly tamer version of a race-car. Remember, Ferrari actually put the words "pit speed" on the dial and not "cruise control". The 458 was built to be raced.
The ride was pretty firm and the exhaust was louder than what I was expecting but all of this is good thing.
I'm really glad Joe loves to drive his car unlike many Ferrari owners who probably keep their car covered up in a temperature-controlled garage and drive it only when it needs an oil change.
Joe has already put over 24,000 miles on the odometer.
Because he loves to drive his car and not afraid to push it, I was able to compile some clips to present to you the sound of the 4.5L V8. It is sounds so good that it makes me miss the V8 sound of the V8 F1 cars.
The feeling I got in the 458 was that we were not even to close to experiencing what this car is truly capable of doing. There's only so much you can do on public roads. But, at least, I got a little taste of what the 458 offers - the dual clutch transmission shifts insanely fast so the surge of power is continuous with no interruptions.
562 hp of pure bliss!
Even with cold tires, I didn't feel any hint of instability or anything remotely coming close to throwing the car off balance. I imagine it takes a good amount of effort to make that happen.
Joe has already participated in the Ferrari Driving school and has plans to take his 458 out to the track soon. That is probably where you are able to fully appreciate the 458 for what it is.
As Jeremy Clarkson says about this car (and this is exactly what he said), "It really is absolutely, unbelievably, mesmerizingly brilliant."
More posts @ Torque Affair
Facebook: Torque Affair
Follow @TorqueAffair