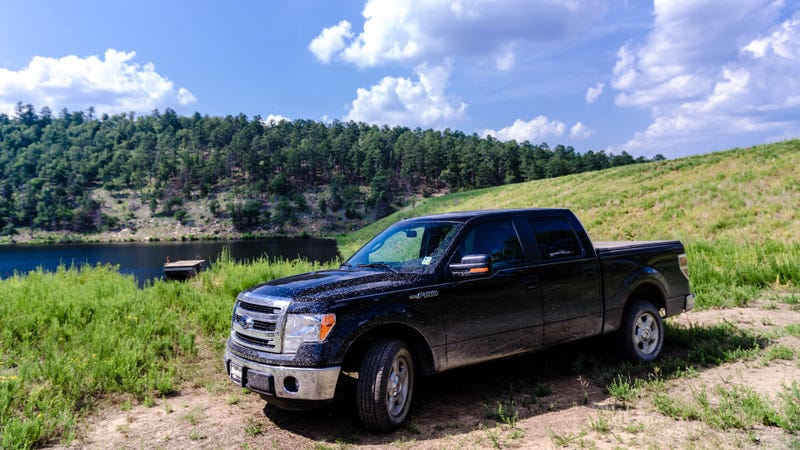 Something wasn't sitting well with me Sunday morning, but I couldn't quite figure out what was bothering me. I just started a new work-from-home job the previous Monday so my work life was full of exciting possibilities. My romantic endeavors hadn't been working out as of late, but that was nothing new. The preceding Saturday night was a relaxing one - no late night bar hopping or misadventures of any sort had transpired. It should have been a peaceful Sunday at the house, but I was discontent.
It was begging for some adventure and I was happy to oblige
Not sure what to do about this decidedly first-world problem, I stepped outside and the solution hit me like a three and a half ton collection of steel, glass, and rubber. My truck was just sitting there in the driveway - clean and untested. It was begging for some adventure and I was happy to oblige. The flat and unbroken terrain of my Northwest Louisiana home would not satisfy our urges, so I packed the camera, hopped in, and let that Coyote pull me north towards the Arkansas state line.
I had traveled through this part of the country many times before, but my motivation was different this time. Past trips had seen some spirited driving in small sports cars along the beautiful ribbon of asphalt that is Arkansas State Highway 7, but things had changed. I was no longer behind the wheel of an RX-8 , FR-S, or MX-5. I had ground clearance and I wanted to use every inch of it, so I reluctantly left the comfort of tarmac and hit the dirt.
That turned out to be one of the best decisions of my road tripping career. Along those washed out and muddy forest roads, I found what I didn't realize I was looking for - peace and quiet. Far off the main roads, the sounds of civilization were replaced my the softer chords of nature. I was the only human soul for miles - truly alone with my thoughts for the first time in years and it felt great. The scenery was amazing as well.
I came across some amazing sights that are often overlooked when you are connecting apexes and running through the gears. A lush marsh tucked away in a remote valley of the Ouachita Mountains and a beautiful (although man-made) lake that time forgot - these are the places that washed away my uneasy feeling. Places where, if you sit still long enough, you almost feel as though you've disappeared.
As I turned myself around and headed south, I realized something. These explorations and adventures are a part of what makes us human. We can't sit still for too long; we are not dormant creatures. That feeling of discontent I had when I woke up that Sunday morning along with the relief provided by the drive was all the evidence I needed. Just south of Texarkana, I was treated to a much greater example of human exploration.