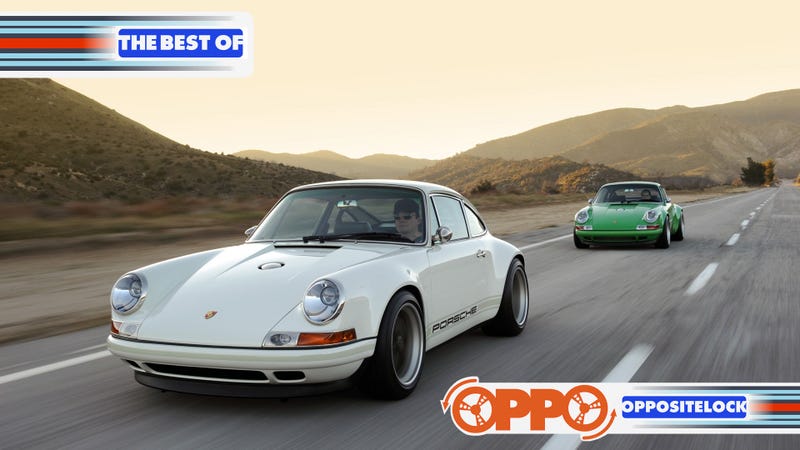 Gathered here are the Oppositelock posts that people put a good deal of effort into writing from Boxing Day through New Years Eve. It includes a Hyundai/Kia Luxury brand, engineering progress, a car-guy christmas present and more.
Now for something a little different. [We] decided to write an article about whether or not Hyundai/Kia should establish a luxury marque in order to help it's Equus, Genesis and K900 luxury sedans succeed. The format will be debate-style, point-counterpoint. We each took a side; I am "for" establishment of a new luxury brand, Arch Duke is against.
Each new generation of the BMW 3 Series or the Volkswagen Golf or the Mercedes S Class is, as one would imagine, better than the previous. It's the natural and (mostly) forward progression of nearly everything, except, for some reason, Chevrolet, who think that adding random bits of black plastic anywhere they can makes their cars desirable.So why, then, do I feel like cars aren't actually improving that much?
Posting on Jalopnik pretty much means it is a given that I'm a gearhead of some degree. It is in the blood, even though my wife thought she could "cure me" or I'd "grow out of it." Not gonna happen. This picture helps to explain it just a bit. That's me in my Dad's Plymouth Satellite at around 18 months. Growing up, I remember seeing this picture off and on. Over the last 15 years or so, it dropped off the radar.









Within 5 minutes of starting of any pick-up truck conversation on the internet, someone always rips off their clothes and starts screaming "Bring us the Volkswagen Amorak!!!!" while simultaneously running in circles like a mad man. Listen to enough of these conversations and you begin to think that if VW brought the Amorak over, they would meet their world domination sales goals with a single model. Yet it is still not here for reasons that have been discussed in terabytes of articles.
A slammed BMW Bavaria? Scandalous! Horrible! Hang on, before you start soaking the torch tips in kerosene and sharpening your pitchforks, you should open your mind and lower you expectations...a lot lower...
Also check out This 25k Mile 1986 Chrysler Conquest and the Sweetest '55 Ford El Rancheramino Ever.
I spent some quality time at my parents' place over the Christmas Holiday and did the normal things like decorating the tree and digging out the 30 year old HO trains to be set up on the platform below. Little did I know the treasures I would discover in the process. In the boxes accompanying the old EU and domestic HO rolling stock were some of my old toys. I'm not exactly sure why my parents still have this stuff from 30 years ago, but I was happy to find some of these gems - it was a trip down memory lane.
The 991 generation 911 has been with us for about two years now which means its about time that some more potent versions step up in the range to make problems for the likes of Ferrari, Lamborghini and McLaren.




Maggie is a rare breed. She is a millennial, a female, she drives a standard, and she loves cars. Some say... she's a real catch, others say she's been secretly brainwashed by The Stig, but all I know, is that she's called my girlfriend… Maggie has always loved the Ford GT, and it's always been by and far her favorite car of all time. So I thought I would take my chances, and see if I could find a GT owner in the area that would be willing to show Maggie a GT, as she's never seen one in person.e in person.
Mazda has restyled their midsize 6 sedan for 2014, and in the process created an automobile that stands out in the midsize segment for its stylish looks. This segment has historically been dominated by staid designs like Toyota's Camry and Honda's Accord, but this began to change a few years back with Hyundai's Sonata redo and in 2013 with Ford's restyled Fusion. Mazda is continuing the trend - even upping the ante with its 6 sedan.
I am home for the holidays. Since my parents sold their minivan, (2000 Toyota Sienna) I borrowed the 2004 Mazda6… This car was purchased because I drove my dads previous car a 1988 Toyota Corolla, into a stopped truck when I was 16. I am idiot for doing that. Anyways, that stupidity forced him to purchase another set of wheels. He got this, when it was new, in 2004.
The Mazda3 is not an amazing car. Despite kind of almost sharing a name, it is nowhere near the level of luxury or chassis refinement as a BMW 3 series, or even an Audi A3. However, at a price several thousand dollars cheaper, it manages to provide a driving experience that comes reasonably close. Quite simply, it does its job enthusiastically and it does its job well.
My wife and I looked at each other when we heard the engine revving. Vrrrrrooooooooooom! It filled the room then slowly faded away. But not in the same way a car does when it accelerates away from you. The engine continued to rev and it was coming from just outside my front door. I looked outside expecting to see some clown in a Civic burning his clutch in an attempt to spin front tires. But instead of Vtech-YoEG I found a young lady slowly rolling backwards down a busy street in a new Fiat 500
I recently noticed while browsing posted Nurburgring lap times that the 8 minute mark was a barrier which wasn't overcome by a mass produced street car until nearly the year 2000. It was then that professional driver, Walter Röhrl lapped the 1999 Porsche 996 GT3 around the Green Hell to a time of 7:56. It wasn't until a few years later that Dave Hill matched the GT3′s time in a Corvette Z06, which was a reasonably priced sports car in comparison to the Porsche GT3.
For those unaware, SVT recently released a statement on how Nürbürgring lap times shouldn't be considered the be-all-end-all of automotive performance. I agree with that statement. After all, with little to no notion of where the track begins and where the track ends, highly varying weather, and different drivers, it has too many loose knots. However… I have the answer for such a problem. I present you the ultimate standard test for performance cars.
The Best of the Rest
356DaytonaFan posted pictures of his Daytona. Vee Ate Injun went to the Breakfast Club Cruise-In at the Petersen Automotive Museum. Blondude spotted a 918 Spyder. Louros found two 50's Fords down on the street. TwinCharged did some carspotting in Macau. Twinturbobmw posted photos from Portland C&C and took a tour at a local Ferrari and Maserati Dealer. Audi For Life shared photos from PDX C&C December 21st and December 28th. ZachR attended Carlsbad C&C. MR2_FTW shortened his strut housings and built up coil-overs for his Cressida wagon and posted pictures of the 80's cars within his friends group. MountainCommand learned a valuable lesson about winter driving. Velocity posted pictures of his uncle's 911, replaced some bulbs on his IS300 and his parents' Odyssey. Xxstich666xx picked up a Miata. Valsidalv showed off his extensive die-cast collection. Makoyouidiot bought a Fiat. Decay bid farewell to his bike. Aquila121 introduced his project Riceball AE86. Roflcopter took a trip to the National Corvette Museum. Themanwithsauce autocrossed his Monte Carlo. Zipppy spotted a Cobra. Desu-San-Desu went on a mountain drive. Agrajag replaced a wheel bearing on his brother's Civic. CrzRsn went car hunting with Blake Z. Rong. Party-vi got to flog an RS5. Battery Tender Unneccesary closed out 2013 with a drive.
---
As always, If I've missed something and you would like me to include it, let me know.
Fun Discussions
There were several posts that asked questions and sparked some good discussion between Boxing Day and New Years Eve. Take a peek and chime in on some of them listed below:
Just the #tips
Honourable Mentions
These posts have already been shared with Jalopnik directly but deserve to be mentioned again because they were first posted on Oppositelock:
Want to participate on Oppositelock? Check out the general handbook for posting on OppositeLock as well the Oppo tools to help you get started.