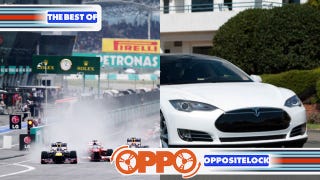 Assembled here are the best Oppositelock posts from Wednesday and Thursday. It includes a thorough summary of the F1 preseason, Tesla's unwillingness to play along, entry level luxury and more.
It has been a long time since a revolution this significant. For the first time since 2006, the engines have changed. It has never been so difficult to guess who is on front. Some teams are hoping that the new rules shuffle the cards and equal the playing field, while Red Bull would have liked to continue racing the RB9 until there is no more fuel on this planet. Let's take a look at the results and try to create a more or less (less, definitely) accurate power ranking.
Three years ago I penned an article titled, "Why do automakers still need lobbyists?" In that post I argued that automakers could do away with most of their lobbyists and leverage their groups of true believers via social media to carry the brand's message in force to governments across America. I couldn't have been more wrong.
Since most of us don't have 5 series money, talking about "driver's cars" in that segment is not terribly helpful. However, the average transaction price of a car is about 32k, so for the same money as a loaded Camry (or Cadenza) you can get yourself a German sport-sedan in the form of a Mercedes CLA or an Audi A3. I am here to tell you that if you are true Jalop both are a waste of money.
The venerable publication Car and Driver recently published an article that imagined a post-apocalyptic hellscape where there are no more Baby Boomers to buy classic cars. Gasp! Sounds terrible doesn't it? Thousands of Z/28s, Mach 1s, and Hemis left to rot as teenagers zoom around on their iScooters and play with their xStations. It's hard to believe, considering their reputation, that Car and Driver would fall into the same trap as many other stories about cars and Gen-X/Y/Millenials. They assume that younger people aren't interested in classic cars or cars in general, which has proven false again and again.
The vehicle you are looking at in the picture above is the very first production Land Rover Defender. It was made in 1948. It is absolutely impossible for me to talk about the changes in designs, engines, and model variations that the Defender has undergone over the years as it would take me most of the day to write. This will instead be a short but (hopefully) informative piece for you all to read. Unlike the Defender, I like to keep things light!
During the Geneva Motor Show I was kicking around in my head, the idea that today is actually the 'Golden Age' of the automobile. While I know many believe that it was the mid 50's to late 60's. I think we are actually living the dream right now, today!
Imagine being really excited about something, but not being able to tell anyone, like winning the Powerball but keeping your mouth shut long enough for the rest of the people in your office lottery pool to realize you aren't coming back. Ok, maybe not that bad, but pretty damn close. I had a confession to make: I fell in love with a Korean car, and I couldn't tell a seoul.
There have been a few articles on this car of late, TheSmokingTire's Collin Woodward compared the name to the dog on Doctor Who. Our very own Zac Estrada took pills that were sent to him directly by Kia to make sure he was brave enough to try the car out. But so far, no one has actually been in it, until now. What is the Kia K900 you ask? Well I would tell you that it is a version of Hyundai's Equus luxurymobile. It has come to save individuals from touching the proletariat.
Before Acura decided to commit the most heinous of sins in the car world, becoming boring and lost focus, they went out on one last batshit insane car. No, it's not the NSX-R, or anything racey like that. It's one of their most popular sellers, the TL. Now most of you know the TL as that car that the quirky dude in your office drives. He's a bit well off, most likely works in IT, and likes Honda's or Japanese cars(sorry Jay I had to pick on you!).
When Jeep took the wraps off of the 2015 Renegade at Geneva the other day, the internet exploded with talk of the new "tiny" or "baby Jeep" that would usher the brand into "new territory." Autoblog even called it "more of a baby Wrangler than a smaller Cherokee." Whatever that means. The pixel-ink flowed like wine as every automotive journalist flocked to the controversy angle like the salmon of Capistrano.
Around this time in my time in Africa, it was May 2008. June was going to bring me back home to Canada. So.....me and two buddies did what anyone would do. Go on a 10 day, 4 country, 6 border crossing, 3000 km road trip!! Sure, we almost literally died at one point, (do not try to drive a van painted in Nigerian national colours through an anti nigerian riot) but it sure was fun.


Today, we best know the Opel Insignia as both a really nice Buick and the replacement for Jeremy Clarkson's most hated car, the Vectra. But once upon a booming economy, General Motors' European brand hand other, more ambitious ideas for the Insignia name.
If a modern day version of Romeo and Juliet was created with a Fast & Furious tilt, Mercutio better watch out because Tybalt is going to whoop him in some kind of drag/drift/stabbing event with this Capulet kit car.



Recently I got an email from a reader interested in knowing why the Rockstar Games Franchise, "Midnight Club" use a "Wangan" Kanji character, and how they're affiliated since the original Midnight Club game never even featured any expressway racing, but had the character anyways. I thought this was a pretty good question, so I did a little personal investigation, through which I contacted some friends in the games sector, and some friends back in my home away from home, Japan. The results of my investigation were surprisingly interesting.
After three rounds of WRC competition there seem to be two themes emerging: 1) the dominance of cars with a VW badge on the front, and 2) fantasy-ruining attrition. The aftermath of Rally Mexico sounds like part of the framework for a "12 Days of Christmas" parody song, with 12 cars a-starting, 8 cars retiring (Kubica, Mikkelsen, and Meeke retired twice, Hirvonen and Ostberg once), 5 daaaaamaged suspensions, 4 letter words from Meeke, 3 big rolls, 2 of them by Rob, and a radiator full of beer.
The more things change, the more things stay the same. If you're feeling a bit blue that the 2016 Chevrolet Camaro won't have styling radically different from the current model, you might want to stock up on Prozac before Dodge introduces the 2015 Challenger next month at the New York Auto Show.
James R. Fuller was an executive for Volkswagen of America when he was aboard the ill fated Pan Am flight 103 that went down over Lockerbie due to a Libyan terrorist bomb. He was one of the biggest champions of bringing the bonkers Golf Rallye to our shores.With all this talk about aircraft lately I was reminded of this story.


LADIES AND GENTS THE 2014 NISSAN CAMRY. ALTIMA. WHATEVER. It's an S, with some blue-something engine which means it's a 4-cylinder, has a CVT (with sport mode, ooOOooOoOooOoohh), and whatever other options that includes. I don't know, and can't be bothered to check.
There's been a lot of chatter for a long time about the impending demise of the row-your-own manual transmission. I'm not talking about those automated manuals – with or without an actual clutch or two – with acronyms lifted from the annals of phone company documentation such as DCT, DSG, PDK, etc. No, I speak of the real, three-pedal mechanical gear changers with a friendly stick emerging from either the floor or – if you're old – the steering column.
The Best of the Rest
B_Dol got a GT-R for a day. Frinesi2 has been restoring an old guitar. AncientOfDays did some more work on his AMC Eagle. Bandit got his Trans Am driving again. Euro Dan did some carspotting in Budapest. Distraxi went to the Ellerslie car show. For Sweden spotted a Sprite and an AE86 jump starting a B-body. Feather-throttle-not-hair spotted some Subies around Seattle. George McNally finally bought a new car. EarlZ went to a track day with friends. BlythBros. bought another Alfa. WarShrike shared some photos from TX2K14.
As always, If I've missed something and you would like me to include it, let me know.
Fun Discussions
There were several posts that asked questions and sparked some good discussion on Wednesday and Thursday. Take a peek and chime in on some of those listed below:
Just the #tips
These posts have already been shared with Jalopnik directly but deserve to be mentioned again because they were first posted on Oppositelock:
Want to participate on Oppositelock? Check out the handbook for posting on OppositeLock as well the Oppo tools to help you get started.