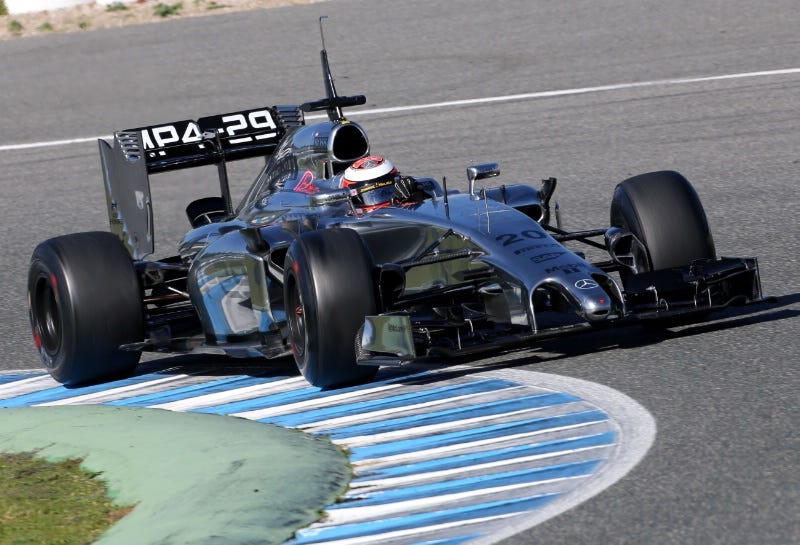 So ladies and gentlemen, Formula 1 is heading into their second testing session in Bahrain starting tomorrow. The first session was not so good for the teams with the Renault powered cars, especially the reigning world champions of Infinity RedBull. For the team that dominated the last 4 years of F1, they managed to complete the lowest amount of laps out of any of the teams, besides Lotus. However, you can't really blame Lotus since they weren't there. Renault believes that it has solved these issues declaring that the problem seemed to have been with the Energy Recovery Systems storing ability. While it remains to be seen if these few alterations will serve to solve the gremlins that plagued the Renualt powered cars, what will be seen is how reliable the other teams cars are.
Both Ferrari and Mercedes completed many more laps than the rest of the field, but these weren't under full power. The first session test was to see if the cars would actually work on a track, rather than just a Dyno. Overall, the cars didn't break that much besides Hamilton's front wing breaking off and causing a shunt. What with all the rules and regulation changes made for this year, the top two teams to beat performed admirably, and will be the ones to watch.
Another story to watch is going to be the boys from McLaren. They pretty much gave up during the last half of the season last year so they could concentrate on building this years car. And build they did. Both Button and Magnussen caned the first test session and put in some truly remarkable times, even without full power. This test will be crucial for McLaren to see if all that hard work and if they made the right choice last season.
I for one will be very excited to see Lotus come to the field, while they don't have Raikkonen anymore, they have Grosjean, and Grosjean as we saw during the last few races last season is fast and truly a brilliant driver. I hope that Lotus gives him a competitive car so he is in the fray just like last season.
Overall, this session will be about working out those last few little bugs and gremlins out of the cars, because Australia is coming up quick and if you don't have your car ready, your going to lose points. And with a field as competitive as this years, with new cars, new tech, new regulations and rules, every point is going to matter.
Many are concerned about F1 losing its identity, losing its focus of what it used to be. The pinnacle of performance, the best drivers in the world, with the best machines in the world. And to a degree I agree with that, however, this year and watching the last test session with so many of the teams taking fast laps against one another, this is going to be a good season.
Stay tuned tomorrow because I will be live updating from the first test day starting around 7:00am CST.
You can find me here on Twitter too.