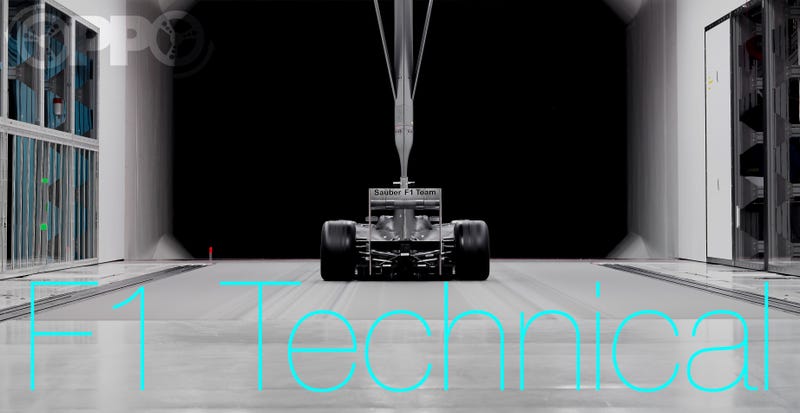 Technical innovation is what makes Formula 1 so different from any other form of racing. The on track action is as much played out by the engineers and aerodynamicists as it is the drivers. We are here to admire, study, and discuss this beauty that exists on the ragged edge of what we think is possible, or at least what we thought was possible.
Discussions and questions are welcomed and encouraged in the comments section below.
2014 Regulation Changes
In 2014 a number of regulations, some major and some minor, will transform the look and feel of next year's batch of F1 chassis. Keep in mind that these are just a few expected solutions to the new regulations and will not in literally reflect what will actually be unveiled after the new year.
Font Wing Width
2013
2014
In 2014, the front wing width will be reduced by 150 mm and will make it more difficult for the aerodynamicists to create front-end downforce and simultaneously sculpt the air around the tires to reduce drag.
Nose Height (Bulkhead)
2013
2014
In 2014, the front bulkhead (nose height in line with the suspension) will be reduced by 100 mm. This reduction in height could make pull-rod suspension more viable as the push-rod style suspension will have to angle flatter, but most likely most of the teams will stick with the push-rod style suspension as there is more positive angle to play with than negative on the pull-rod style.
2013/2014 Comparison
That's only 10 cm, people, and it looks massive.
Nose Height (Crash Structure)
2013
2014
In 2014 the nose height of the crash structure will be reduced, and finally the stepped noses will be gone, as the FIA have regulated and angled line limit rather than two separate heights for two separate locations. However, a skirt of the regulations could produce a different nose that is far more unattractive than I care to comment on. However, vanity panels are still allowed, so cross your fingers.
Driver Position
2013
2014
Due to the change in nose height, the driver's position within the monocoque will naturally be altered as the driver's legs are contained within the nose.
Camera Position
2013
2014
In 2014, the FOM cameras will be set between a certain height on the chassis. The tear-dropped shaped cameras are not supposed to provide any aerodynamic effect, but the teams have worked out that they do provide some change in the airflow and have moved them everywhere from underneath the nose to the very tip in an attempt to find speed.
Cooling
2013
2013
The new engine changes (see below) will require more cooling, and thus the sidepod ducts will have to be larger in order to accommodate this airflow.
Exhaust Positioning
2013
2014
The Coanda exhaust layout is gone in 2014 due to a mandated repositioning of the exhaust and the bodywork will return to a simpler coke-bottle design. Teams will end up working the back end will new bodywork since the hot, controlled flow of exhaust will not be able to mange tire squirt.
Engine/Power System
2014
A new power system comprised of a 1.6 Liter Turbo V6 with direct injection, a fuel flow limit, and 15,000 rev limit will be introduced in 2014. Along with the new engines, a increased capacity Kinetic Energy Recovery System (KERS) that draws kinetic energy from braking along with Turbo Harvesting.
The fuel tank is limited to just 100kg in addition to it being limited in its flow to the engine. The exhaust outlet position is also set to avoid any aerodynamic benefit.
2013
2014
New new exhaust outlet can be seen in 2014 compared to the heat outlet currently utilized in 2013
Rear Wing
2013
2014
The beam wing is gone; this mean that the main wing will have to be supported in other ways and could be supported by vertical struts as seen below.
Space for a Y75 winglet, more commonly known as the 'monkey seat', is still available, although it's not shown
2014
Along with everything mentioned, the 2014 Formula 1 chassis will also be equipped with 8 forward gears that will be fixed for the season and the chassis must have a minimum weight of 690 Kg.