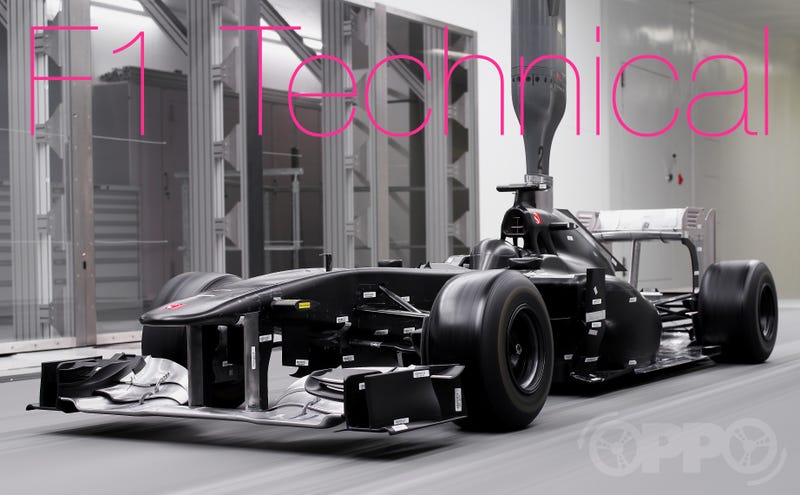 Welcome to OppositeLock's own Formula 1 open technical discussion! The one thing that separates Formula 1 from any other motorsport is the absurd level of engineering and aerodynamic advancement that the teams push on each other, and we are here to appreciate, discuss, and revel in the beauty of design on the current limits of speed.
Open discussions in the comments section are welcomed and promoted. I will post a few pictures that I've found interesting on a particular race weekend, and hopefully we'll get some great discussions stirring!
Singapore Grand Prix
Red Bull
Notice how the Red Bull's radiators are positioned within the sidepods. Now look at the Sabuer below.
Sauber
This is part of the reason for Sauber's smaller sidepods in 2013, relative to the rest of the field. Their sluggish pace early on in the season didn't suggest that these smaller sidepods had an aerodynamic advantage, but now that the tires have changed, and they know how they react, perhaps this tightening of bodywork does give a slight advantage; we won't really know unless they are tested head on with the fatter sidepod.
Also note the two hollow crash protection struts near the top of the chassis.
Force India
Vertical vanes are now appearing on the bottom of the front wing. The bottom of the front wing acts like the rear diffuser. The vertical vanes on the underside are there to control the airflow and send it in a particular direction; they also have the advantage in not allowing the low pressure zone to be filled in with air from the sides and maintaining the lowest pressure possible and therefore maximizing downforce.
Lotus
Note the more haphazard vertical(ish) vanes on the underside of the Lotus chassis compared to the Force India mentioned above.
McLaren
This is the front corner of the sidepod.
Williams
Williams seem to have some sort of loop near the edge of the floor that looks like it moves the air outward of the chassis.
Williams blown wheel. The silver colored duct bypasses the the brake and sends the air toward the other side of the wheel.
Ferrari
Ferrari Making use of the Flow-Viz paint to see how the air is passing around the sidepods and through the diffuser/coke-bottle zone. It looks to originate around the front of the sidepod.
Torro Rosso
Interesting rear brake duct with three inlets, and for what reason? I have no idea.
[Select images from Somers F1]