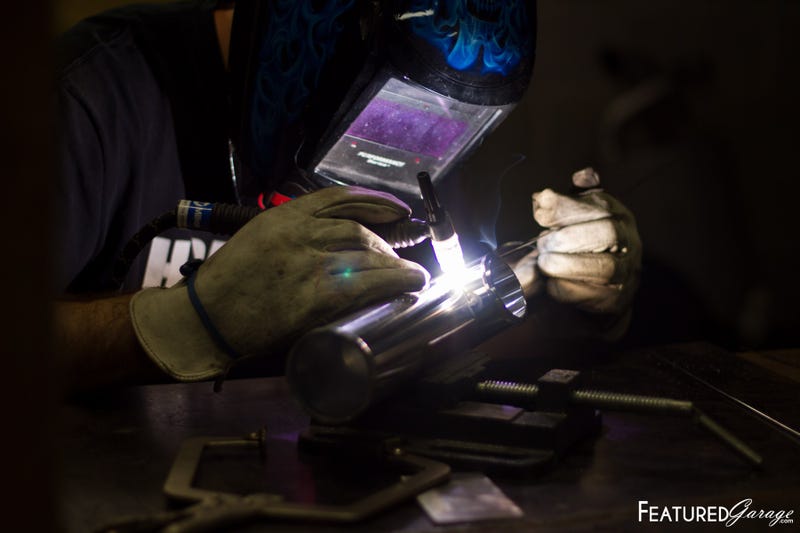 Meet Blake Barr. A Florida Panhandle local that is literally shaping his life and career through metal fabrication. With an air of southern hospitality in his personality and an eager passion to learn and develop, Blake is creating quite an impression on the fabrication scene in the area, as well as making a name for himself through his bespoke, race proven creations. With a meticulous eye for detail and deep rooted passion in the automotive community, his side project 850Fabrication is being used as his tool in pursuing his life passion.
Nestled on a quite wooded plot of land is Blake's personal little shop. Built in the 1960s, the now birthplace of 850Fabrication has a genuine personal atmosphere to it; and rightfully so. This is Blake's temple of fabrication where homage is paid to the race car gods in the form of TIG welding and metal shaping.
While walking towards the entrance of the shop, something peculiar caught my eye. We'll get to that later on in the article.
Enter the temple and be greeted by various tools, car parts, experimentations, dissections, and anything related to the pursuit of speed. This is the shop of a curious mind seeking to push the envelop and improve upon perfection.
In order to improve upon perfection, sacrifices must be made in the temple. Cutting cylinder heads like this is necessary to be able to accurately measure tolerances when removing metal in certain areas or to be able to measure piston-to-valve clearance when high compression is not enough compression.
What makes this shop and the owner more interesting is how he obtained his skill set. This fabrication monk started his hobby by attending the Welding Technology Program offered at Pensacola State College. That jump started Blake's knowledge for welding, but to further develop his skills he took to the teachings of WeldingTipsandTricks.comand perused their YouTube channel, absorbing all the information available like a sponge. In order to thrive in a fabrication environment, Blake took a job as a fabricator at a local restoration shop.
Consider this: Blake is out there actively pursuing knowledge to become an illustrious fabricator. Once his sights had been locked on a passion, he decided to simply go after it. When you have a desire to accomplish something, go after it.
Knowledge is a third of the equation to achieve expertise, followed by passion. But the final piece in becoming an expert is hard work. It is crucial to labor on something to the point of obsession if anyone ever wants to truly become great.
This is exactly how Blake works. Meticulously poring over every cut, bend, and weld until perfection is achieved. Before perfection is achieved however, countless hours of practice occur in order to ensure that his skill is honed before the final product is born. So what final product is currently being worked on in this temple of speed?
Remember the Prelude that we caught a peak of before entering the shop? Well before we go look further into that, lets take a glimpse at the engine going into it.
Part Two: The Final Product
For two years this Honda H22 engine has been in development. Understand that this is going into a car, a street car, that will be making an absurd amount of power, reliably. To give you an idea of the reliable power that's going to be made in this street car, I'll include a build sheet at the end of the article. It's impressive to say the least.
That H22 power house is going into the engine bay of this Honda Prelude. Currently in the engine bay is an engine he is using for mocking up components like mounts, manifolds, and other go fast bits. Blake has a history with Hondas and drag racing. Whether it's his own creation running down the strip or it's his components in other 800-1000 horsepower 4-bangers eating up the tarmac, he's no stranger to making a Honda blitz down the track. Lets look closer at the maniacal metal work that is his one-off manifold.
Any gear head can appreciate the artistic form that follows the functionality of bespoke racing components like this exhaust manifold. This masterfully crafted piping, ushering exhaust gases into the .91 A/R turbine housing, is truly a sight to behold. A manifold like this is certainly something that would be at home in an engine bay or on the wall in the living room.
With the massive Borg Warner S366 perched on the manifold, you can bet that it will trap a 330′ time faster than you can ask "So, how much power does it make?" But then what is all that power good for in a street car if it doesn't last? Remember, this project has been the labor of love for years in order to ensure that every move is calculated so that it will in fact perform and last. Additionally, projects of this scale take so long because the fabrication work is being done by the owner himself, and funds to support the project come from extra money made through fabricating components for others.
This project is a prime example of the classic expression "built not bought". Hard work. That is what is going into this car.
Closing Thoughts
Shooting photos and talking shop with Blake was inspiring. This is a grassroots automotive expression in it's finest form. What I hope that people can take away from this is that you can do it. You can pursue your dreams and make them a reality however, it will cost a lot of hard work. To say that Blake has fully achieved his dreams would not be accurate as we are witnessing him pursue his passion. He still has a long way to go to achieve total personal satisfaction but:
Any true master is always learning. If you're not asking questions then you're not getting better and if you cease to progress, then somebody will surpass you.
I encourage you to check out more work done by Blake on his Facebook page, 850Fabrication, and reach out to him if you need custom components made for your project in the 850. Before I end the article, here's that build list that I promised you.
That's all for now, Oppo. If you'd like, you can head over to the FeaturedGarage website to see more pictures at the end of this article.