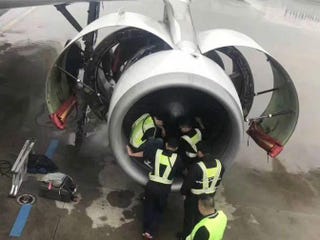 A flight in China was delayed for five hours after an elderly passenger threw coins into the aircraft's engine for good luck.

The 80-year-old passenger, surnamed Qiu, was boarding the China Southern Airlines flight from Shanghai to Guangzhou with her family when she stopped to make the 'blessings'.

Then she threw nine coins at the aircraft's engine turbine. Concerned fellow passengers alerted airline staff. 
Wait,the flight was leaving Shanghai? I wonder if she was in Sydney a couple weeks back.
The Independent continues:
It prompted a full examination of the engine, which in turn led to the evacuation of 150 passengers. The flight was delayed the flight for five hours.


Eight of the coins missed but one landed inside the engine, airport officials told the Agence France Presse news agency.