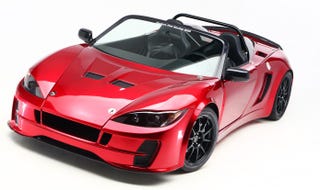 A couple of months ago I found out this was the result of Factory Five's contest for a rear engine RWD kit car. Uses a 2002-2007 WRX (no STi which is weird) as a donor car. I think it looks pretty sharp and strongly considering it as a project car. I don't know how involved this kit car is to assemble but it seems relatively straight forward...
What you get:
• Frame:Conventional Factory Five tubular steel space-frame chassis with integrated roll hoop, side-impact protection, crumple zones front and rear, and aluminum chassis panels

• Body:Complete composite body with the following gel-coat or paint-free composite panels: lower front nose, right and left front quarter panels, hood, right and left doors and door liners, side and rear lower quarter panels, tail section, upper trunk hatch

• Aluminum and Composite Chassis Panels:Pre-fit inner panels that form the cockpit, floors, rear bulk head, engine bay, and splash guards

• Front Suspension and Steering:Front upper control arms, spindle adapter brackets, KONI brand coil over shock assembly, fasteners, brake bias adjuster, and brake line adapters. Steering rack mounts and fasteners to use Subaru steering rack and column.

• Rear Suspension:Multi-link rear suspension includes rear lower control arms, fasteners, adapter brackets, and KONI brand coil over shock kit. Frame mounts enable use of Subaru links and transmission.

• Fuel SystemFuel tank with adapter kit (requires Subaru fuel pump, lines, and fittings).

• Cooling SystemCooling system adapter kit with radiator hose extensions and fasteners to utilize the Subaru radiator.

• Exterior Trim, Lighting, and Glass:Kit includes headlights with integral turn signals and running lights, tail lights and license plate light, windshield, and badges.

• Interior Trim:The 818 is designed to use Subaru interior components such as gauge pod and seating. Kit includes OEM-styled ABS formed interior door panels, seat adapter brackets, OEM-styled ABS formed dash, center console, shifter assembly, and e-brake adapter
What you need:
• Front spindles with full brakes and front lower control arms

• Rear spindles with brakes and e-brake handle/cables

• Steering rack, tie rod ends, and upper steering column assembly

• Pedal box and throttle pedal

• Master cylinder and brake booster, and clutch master cylinder

• Engine with turbo and intercooler (if WRX model)

• Exhaust manifolds, O2 sensors, and down tube

• Transmission

• Rear lower control arms, toe links, and CV joints

• Front seats, front seat belts, and gauge pod

• Fuel pump

• Radiator

• Wheels and tires

• Door hinges, rear w/ latches,strikers, and inside door handles

• Side view mirrors, left and right

• Rear view mirror

• Rear seat belts
With this list of donor parts, it almost seems that if you pull the suspension and everything in the engine bay, you're 90% there. The body is already pre-painted. Now with most things I usually say to my self "it doesn't seem that hard" I'm usually missing a couple of huge things that will take an eon to finish....
Anyone have experience building a kit car?