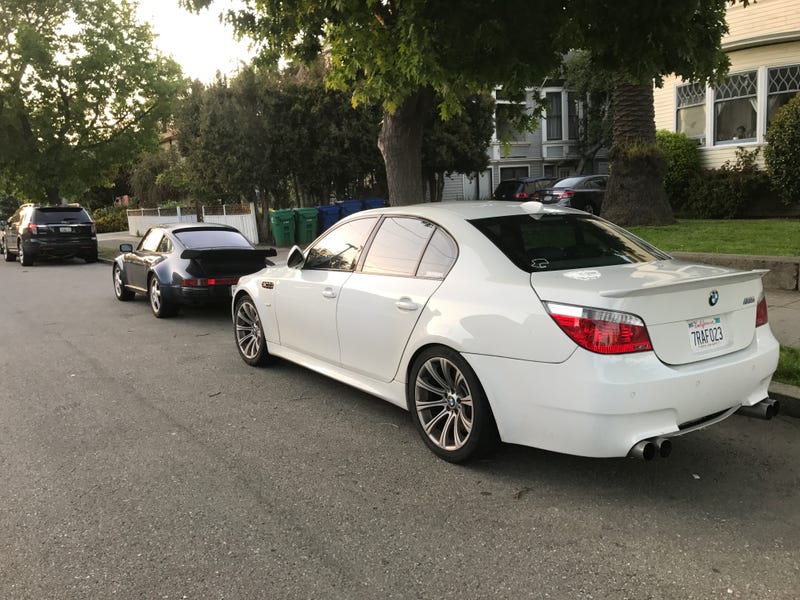 I bought my M5 the Christmas before last from a seller in Detroit. I picked up the car with the plan of driving it to New Jersey to store in my parent's garage until Spring and then probably ship it back.
By the time I reached Ohio I had decided that plan needed a revision.
I went and visited my parents, got the XM radio turned on (bye bye gospel and angry preachers on the radio) and headed south. I drove down the Blue Ridge Mountains, then headed west. I crossed through the South, the dreaded Texas, the South West, and then up the coast of California where I promptly rented a garage and put the car away until Spring.
I had never driven across the country before, and doing it in luxury with a roaring engine and paddle shifters humming along to satellite radio is really goddamn perfect.
Well, I just finished hosing most of the dead bugs off again after this weekend's trip down the coast to Long Beach where I proceeded to burn up freeways all over LA visiting other family and then back up I5 with speed that tapped 114 mph at one point. Again, in luxury, so you don't notice the speed quite so much.
I put on about 1,000 miles this weekend.
Felt good, man. Felt real good.