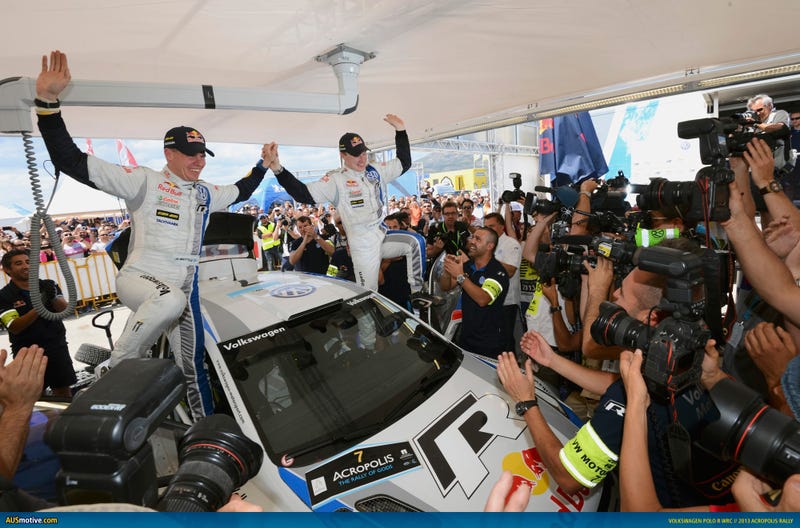 What's that? I haven't announced results from Acropolis yet and Rally d'Italia is only days away? Well hell, I better fix that!
In the event preview for Acropolis I said making fantasy picks was like making picks for a NASCAR plate track. It took precisely one stage for this to prove accurate as by the end of that opening stage Ogier was out of the race entirely and Ostberg and Hirvonen were both minutes down and out of the running for the podium. These three are of course the go-to picks for virtually everyone in the league (except Orlove who forgot to make his picks and ended up muttering obscenities all weekend because he could have TOTALLY CLEANED UP in this round). Novikov of all people found himself leading after the first stage, a lead he managed to hold until he too found trouble on stage 4, dropping more than four minutes and giving the lead to Latvala. As the rally progressed everyone (Latvala likely included) waited expectantly for that famed Latvala luck to strike and take him out of the running as it took the others. For once, however, Latvala managed to have a clean race and he held on to win by nearly two minutes over Dani Sordo. (Terrifyingly for the WRC championship, this is the first time all season that anyone other than Loeb has finished ahead of Ogier in a rally. It may not be the same Seb, but Seb domination is still the name of the game.)
So what did all this mean for the Fantasy results? Well, when I said Ogier, Hirvonen, and Ostberg were the go-to picks I meant EVERYBODY picked those three, though the order varied. This meant it came down to the fourth driver and the power stage. Four of six fantasy players picked Neuville (finished third), the other two went with Al-Attiyah (finished fifth). We were saved from a four-way tie by the four people with these otherwise identical rosters choosing three different power stage drivers. Unfortunately the one driver who was picked by multiple people, Ogier, was the only driver to score points in the power stage. As a result both McNewbie and Nobody won the week, each scoring 36 points which, in every other round so far, would have been one of the two LOWEST scores, except in Mexico where it would have been fourth lowest. Ironically the people who didn't make picks at all this round fared best in the "best average" championship.
Acropolis Rally results:
1. McNewbie - 36
1. Nobody - 36
3. Hermann - 30
3. Sliding Sideways - 30
5. Dusty - 25
6. Bobololo - 25
Points standings through Acropolis
1. Dusty Ventures - 285
2. Nobody - 281
3. Hermann - 254
4. McNewbie - 245
5. Bobololo - 227
6. Sliding Sideways - 186
7. Bob Loblaw - 169
8. Orlove - 149
9. Reigntastic - 39
Average points through Argentina:
1. Hermann - 50.80
2. McNewbie - 49.00
3. Dusty Ventures - 47.50
4. Nobody - 46.83
5. Sliding Sideways - 46.50
6. Bobololo - 45.40
7. Bob Loblaw - 42.25
8. Reigntastic - 39.00
9. Orlove - 37.24