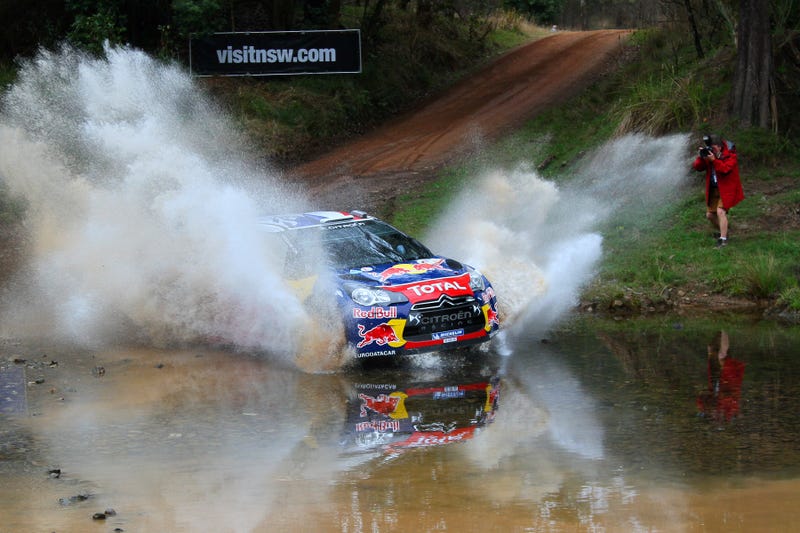 G'day! Time for another foray into the Outback as the WRC is headed to Australia after a one year hiatus. This dusty, high-flying rally has long been a fan favorite and the unique conditions can challenge the very best, including Mr Loeb, who only has one win and three podiums in five starts here. Fellow Citroen driver Hirvonen has the best record down under, having won the last three rounds in 2006, 2009, and 2011. He'll be looking to get that fourpeat this weekend. Ogier, the "favorite" at every event these days, has never had a good finish in Australia, finishing fifth and 11th in his two visits, but he's been nearly unstoppable this season, and a win will clinch the 2013 championship. His teammate Latvala has never won in Oz, but he's been progressively better every outing, finishing sixth, fourth, and second, and scoring the most stage wins in 2011.
There are a few other wild cards in the deck as well. Neuville, Ostberg, Mikkelsen, and Meeke have never raced in Australia and Novikov retired in his only visit here back in 2011. The only way to even remotely guess how these five will fare is by looking at their performance so far this year.
Here are the rules and scoring: Pick four drivers for the rally and one for the power stage (the final stage of the rally). None of your four drivers can be part of the same team (so you can't have both Hirvonen and Sordo, or both Ogier and Latvala). Your power stage driver can be amongst your four main drivers or it can be someone else (team rules do not apply for the power stage driver). List the four drivers in the order you expect them to finish. At the end of the rally you get the cumulative total points from each of your four drivers (an additional 2 points if you correctly guessed their finishing order), plus 2x however many points your power stage driver scored (if any).
Here's the WRC Australia entry list, and stats are back!
Citroen Total Abu Dhabi WRT
•Mikko Hirvonen
Best Finish, Last 10 Races: 2 (x2)
Podiums, Last 10 Races: 4
Average Pts, Last 10 Races: 10.2
DNFs, Last 10 Races: 1
Points-Scoring Finishes, Last 10 Races: 8
Australia Starts: 5
Best Finish, Australia: 1 (x3)
Australia Podiums: 3
Average Pts, Austraila: 17.8
Points-Scoring Finishes, Australia: 5
•Kris Meeke
Best Finish, Last 9 Races: 4
Podiums, Last 9 Races: 0
Average Pts, Last 9 Races: 2.7
DNFs, Last 10 Races: 6
Points-Scoring Finishes, Last 9 Races: 3
Australia Starts: 0
Qatar M-Sport WRT
•Mads Ostberg
Best Finish, Last 10 Races: 3 (x2)
Podiums, Last 10 Races: 2
Average Pts, Last 10 Races: 7.4
DNFs, Last 10 Races: 0
Points-Scoring Finishes, Last 10 Races: 9
Australia Starts: 0
•Evgeny Novikov
Best Finish, Last 10 Races: 4 (x2)
Podiums, Last 10 Races: 0
Average Pts, Last 10 Races: 3.9
DNFs, Last 10 Races: 2
Points-Scoring Finishes, Last 10 Races: 8
Australia Starts: 1
Best Finish, Australia: N/A
Australia Podiums: 0
Average Pts, Austraila: 0
Points-Scoring Finishes, Australia: 0
Volkswagen Motorsport
•Jari-Matti Latvala
Best Finish, Last 10 Races: 1
Podiums, Last 10 Races: 5
Average Pts, Last 10 Races: 10.6
DNFs, Last 10 Races: 1
Points-Scoring Finishes, Last 10 Races: 7
Australia Starts: 3
Best Finish, Australia: 2
Australia Podiums: 1**
**Average Pts, Austraila: 12.7
Points-Scoring Finishes, Australia: 3
•Sebastien Ogier
Best Finish, Last 10 Races: 1 (x5)
Podiums, Last 10 Races: 7
Average Pts, Last 10 Races: 16.2
DNFs, Last 10 Races: 0
Points-Scoring Finishes, Last 10 Races: 8
Australia Starts: 2
Best Finish, Australia: 5
Australia Podiums: 0
Average Pts, Austraila: 5.0
Points-Scoring Finishes, Australia: 1
Volkswagen Motorsport 2
•Andreas Mikkelsen
Best Finish, Last 10 Races: 4
Podiums, Last 10 Races: 0
Average Pts, Last 10 Races: 2.9
DNFs, Last 10 Races: 2
Points-Scoring Finishes, Last 10 Races: 5
Australia Starts: 0
Abu Dhabi Citroen Total WRT
•Khalid Al-Qassimi
Best Finish, Last 10 Races: 5
Podiums, Last 10 Races: 0
Average Pts, Last 10 Races: 1.3
DNFs, Last 10 Races: 2
Points-Scoring Finishes, Last 10 Races: 3
Australia Starts: 2
Best Finish, Australia: 5
Australia Podiums: 0
Average Pts, Austraila: 5
Points-Scoring Finishes, Australia: 1
Qatar WRT
•Thierry Neuville
Best Finish, Last 10 Races: 2 (x3)
Podiums, Last 10 Races: 5
Average Pts, Last 10 Races: 10.4
DNFs, Last 10 Races: 1
Points-Scoring Finishes, Last 10 Races: 7
Australia Starts: 0
Notable WRC2 Drivers:
•Yazeed Al Rajhi
Best Finish, Last 10 Races: 8
Podiums, Last 10 Races: 0
Average Pts, Last 10 Races: 0.5
DNFs, Last 10 Races: 2
Points-Scoring Finishes, Last 10 Races: 2
Australia Starts: 0
•Hayden Paddon
Best Finish, Last 9 Races: 8
Podiums, Last 10 Races: 0
Average Pts, Last 10 Races: 0.4
DNFs, Last 10 Races: 2
Points-Scoring Finishes, Last 10 Races: 1
Australia Starts: 2
Best Finish, Australia: 6
Australia Podiums: 0
Average Pts, Austraila: 5.0
Points-Scoring Finishes, Australia: 2