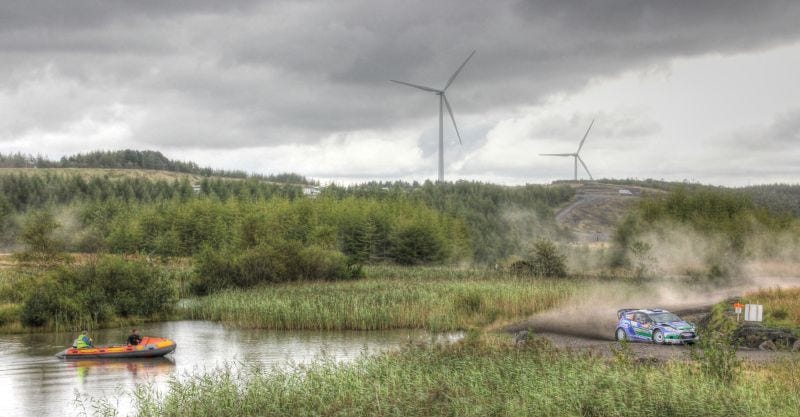 After eleven months of exciting back-and-forth competition it's time to crown a champion. And of course by this I mean our fantasy championship, Ogier effectively lead the WRC championship since race one at Monte (Loeb doesn't count) and clinched the title two events ago. Not the case for us as we have a four-way battle for the crown, the top four all within a scant 27 points.
First and foremost, I apologize for not writing the review for Spain. This was part due to crazy busy times and part due to me being a horrible slacker. To summarize, I got screwed by Sordo, Hermann took the championship points lead, and Chris Duplessis won the week by doing something that had only been accomplished twice before: correctly guessing the order of his finishers. Maybe it wasn't such a good idea inviting a national rally champion to compete. For Spain results and current points standings check here.
Now, Wales Rally GB, that magical time of year when thousands upon thousands of sheep no longer need to worry about farmers sneaking up behind them but do need to be on alert for screaming rally cars (has a rally car ever actually hit a sheep in Wales?). I don't know much about the rally conditions of Wales so I asked someone who has actually competed there recently. Our own Chris Duplessis made his WRC Academy debut in Wales in 2011. It didn't quite end as he hoped (something about a cliff) but it was enough to help him find is way into an Academy car for three events the following season. This is what Chris told me about Wales:
The feel and flow of the roads remind me of the northwest roads in the US. But nothing could prepare you for the ruts, and they are so deep and only flatten out when the road straightens out. You have to drive so hard into the corners and trust the ruts. Very difficult! The Great Orme was my very first WRC stage and it's one to remember!
It sounds like courage and trust are two key traits for success in Wales. Also, most likely, luck, which under normal circumstances would be followed by a Latvala joke, but he's won here the past two years. Perhaps he appeased the Welsh dragons by sacrificing a sheep in their name? Speaking of courage, trust, and luck, Robert Kubica will be making his debut in a top spec WRC car this weekend, after a dominant rookie performance in WRC2 that brought him five wins and six podiums in seven starts. His brave driving style has been known to cause him trouble on occasion, and he hasn't had much experience with the car (though he spent this past weekend testing), but if he stays clean he could easily be a top 5 contender. As for the other WRC regulars, Ogier has been crowned champ and therefore has nothing to lose and everything to gain by pushing (aside from the fact that in four starts he's never scored points here). Neuville, running his final race in a Ford before switching to Hyundai for next year, needs to finish to ensure a second place finish in the championship over Latvala, Latvala meanwhile needs to beat Neuville. Hirvonen needs to figure out why his Citroen was a top 2 car last year when Loeb was around but now that the "old man" has retired is now barely a top 5 car (conspiracy!). There's an abundance of story lines for the finale, this should be a good one.
Here are the rules and scoring: Pick four drivers for the rally and one for the power stage (the final stage of the rally). None of your four drivers can be part of the same team (so you can't have both Hirvonen and Sordo, or both Ogier and Latvala). Your power stage driver can be amongst your four main drivers or it can be someone else (team rules do not apply for the power stage driver). List the four drivers in the order you expect them to finish. At the end of the rally you get the cumulative total points from each of your four drivers (an additional 2 points if you correctly guessed their finishing order), plus 2x however many points your power stage driver scored (if any).
Wales Rally GB entry list (for extra stats click here):
Citroen Total Abu Dhabi WRT
•Mikko Hirvonen
Best Finish, Last 10 Races: 2 (x2)
Podiums, Last 10 Races: 5
Average Pts, Last 10 Races: 11.3
DNFs, Last 10 Races: 1
Points-Scoring Finishes, Last 10 Races: 9
GB Starts: 9
Best Finish, GB: 1
GB Podiums: 2
Average Pts, GB: 8.3
Points-Scoring Finishes, GB: 6
•Dani Sordo
Best Finish, Last 10 Races: 1
Podiums, Last 10 Races: 3
Average Pts, Last 10 Races: 9.7
DNFs, Last 10 Races: 2
Points-Scoring Finishes, Last 10 Races: 7
GB Starts: 6
Best Finish, GB: 3 (2x)
GB Podiums: 2
Average Pts, GB: 9.3
Points-Scoring Finishes, GB: 5
Qatar M-Sport WRT
•Mads Ostberg
Best Finish, Last 10 Races: 3
Podiums, Last 10 Races: 1
Average Pts, Last 10 Races: 6.1
DNFs, Last 10 Races: 0
Points-Scoring Finishes, Last 10 Races: 9
GB Starts: 7
Best Finish, GB: 2
GB Podiums: 1
Average Pts, GB: 4.6
Points-Scoring Finishes, GB: 3
•Evgeny Novikov
Best Finish, Last 10 Races: 4 (x2)
Podiums, Last 10 Races: 0
Average Pts, Last 10 Races: 6.2
DNFs, Last 10 Races: 1
Points-Scoring Finishes, Last 10 Races: 9
GB Starts: 2
Best Finish, GB: 6
GB Podiums: 0
Average Pts, GB: 7.0
Points-Scoring Finishes, GB: 2
Volkswagen Motorsport
•Jari-Matti Latvala
Best Finish, Last 10 Races: 1
Podiums, Last 10 Races: 6
Average Pts, Last 10 Races: 12.1
DNFs, Last 10 Races: 0
Points-Scoring Finishes, Last 10 Races: 8
GB Starts: 9
Best Finish, GB: 1 (x2)
GB Podiums: 4
Average Pts, GB: 11.4
Points-Scoring Finishes, GB: 8
•Sebastien Ogier
Best Finish, Last 10 Races: 1 (x7)
Podiums, Last 10 Races: 8
Average Pts, Last 10 Races: 19.4
DNFs, Last 10 Races: 0
Points-Scoring Finishes, Last 10 Races: 9
GB Starts: 4
Best Finish, GB: 11
GB Podiums: 0
Average Pts, GB: 0
Points-Scoring Finishes, GB: 0
Volkswagen Motorsport 2
•Andreas Mikkelsen
Best Finish, Last 10 Races: 4
Podiums, Last 10 Races: 0
Average Pts, Last 10 Races: 3.9
DNFs, Last 10 Races: 3
Points-Scoring Finishes, Last 10 Races: 6
GB Starts: 2
Best Finish, GB: RET
GB Podiums: 0
Average Pts, GB: 0
Points-Scoring Finishes, GB: 0
Abu Dhabi Citroen Total WRT
•Robert Kubica
Best Finish, Last 7 Races: 5
Podiums, Last 7 Races: 0
Average Pts, Last 7 Races: 2.6
DNFs, Last 7 Races: 0
Points-Scoring Finishes, Last 7 Races: 5
GB Starts: 0
Qatar WRT
•Thierry Neuville
Best Finish, Last 10 Races: 2 (x4)
Podiums, Last 10 Races: 6
Average Pts, Last 10 Races: 13.6
DNFs, Last 10 Races: 0
Points-Scoring Finishes, Last 10 Races: 9
GB Starts: 1
Best Finish, GB: 7
GB Podiums: 0
Average Pts, GB: 6.0
Points-Scoring Finishes, GB: 1
•Nasser Al-Attiyah
Best Finish, Last 10 Races: 5 (x3)
Podiums, Last 10 Races: 0
Average Pts, Last 10 Races: 3.7
DNFs, Last 10 Races: 3
Points-Scoring Finishes, Last 10 Races: 6
GB Starts: 1
Best Finish, GB: 10
GB Podiums: 0
Average Pts, GB: 1.0
Points-Scoring Finishes, GB: 1
Jipocar Czech National Team
•Martin Prokop
Best Finish, Last 10 Races: 4
Podiums, Last 10 Races: 0
Average Pts, Last 10 Races: 4.9
DNFs, Last 10 Races: 2
Points-Scoring Finishes, Last 10 Races: 8
GB Starts: 2
Best Finish, GB: 9
GB Podiums: 0
Average Pts, GB: 0.5
Points-Scoring Finishes, GB: 1
Notable WRC2 Drivers:
•Sepp Wiegand - Avg pts last 6 starts: 0.7
Avg pts GB: N/A
•Mark Higgins - Avg pts last 10 starts: 0.5
Avg pts GB: 1
•Yazeed Al Rajhi - Avg pts last 10 starts: 0.1
Avg pts GB: N/A
•Abdulaziz Al Kuwari - Avg pts last 10 starts: 0.1
Avg pts GB: N/A
France Starts: 0