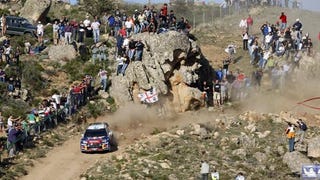 After the attritionfest that was Acropolis it's nice to be going to a safe, predictable event like Rally d'Italia Sardgena. Oops. Did I say safe and predictable? Scratch that. The roads are narrow, bumpy, twisty, and very unforgiving, which is why though Sebastien Loeb has won here four times he has also retired twice (not a big deal for most drivers but a very big deal for him). Not that his past results matter of course, seeing as he won't be racing this year.
Some things can be predicted fairly accurately though. Take, for example, Mikko Hirvonen. Since joining Ford for the 2006 season he has run Rally d'Italia six times. Five of those six events resulted in a second place finish. The sixth was last year and it was a win. This arguably makes him the best prospect for Italy as Ogier and Ostberg have never finished better than fourth here (though Ogier did finish fifth last year in his S2000 car), Latvala won in 2009 but failed to score points in three of his four other starts, and Sordo, though finishing third in 2006 & 2007, hasn't seen the top 5 since 2008. Novikov got his best ever finish here last year with a second place result, but one visit to Sardegna isn't nearly enough data points to make a solid prediction on how he'll fare this time around.
One more thing you can predict, someone unfamiliar with the course will launch themselves off Micky's Jump, immortalizing themselves* in photos and video and ending their rally in spectacular fashion.
Entry list for Rally d'Italia:
Citroen Total Abu Dhabi WRT
Mikko Hirvonen
Dani Sordo
Qatar M-Sport WRT
Mads Ostberg
Evgeny Novikov
Qatar WRT
Nasser Al-Attiyah
Thierry Neuville
Volkswagen Motorsport
Jari-Matti Latvala
Sebastien Ogier
Volkswagen Motorsport 2
Andreas Mikkelsen
Abu Dhabi Citroen Total WRT
Khalid Al Qassimi
Lotos Team WRC
Michal Kosciuszko
Jipocar Czech National Team
Martin Prokop
Brazil WRT
Daniel Olivera
PerGunnar Anderson
*Did the driver sing a little bit of "Ride of the Valkyries" there?