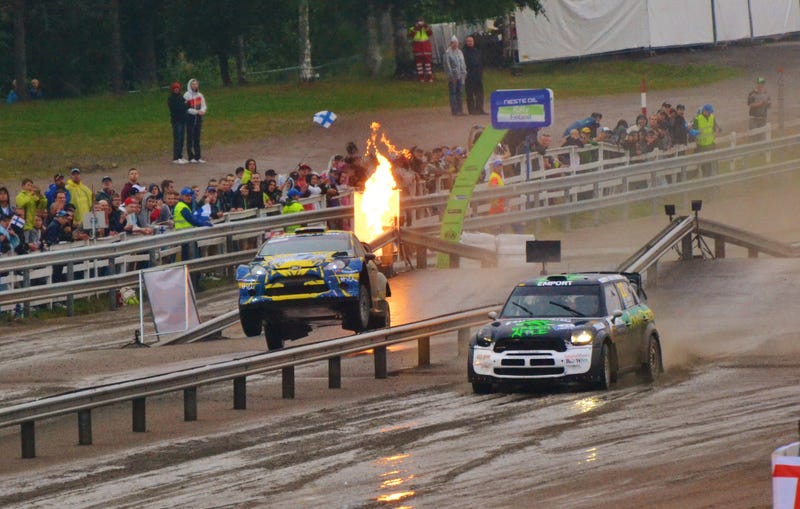 Christ, we're up to Finland already? Alright then! Finland is the wet dream of every rally driver and co-driver around the world. Ridiculous speed, ridiculous jumps, ridiculous roads, and with half a million people showing up for the rally (in a country with a population of just five million) ridiculous fans. If only rally were this popular everywhere! Two of our Fantasy WRC players, Chris Duplessis and Alex Kihurani, actually competed in Rally Finland back in 2012 as part of the WRC Academy. They've both said it more than lives up to the hype and, at the time, was their favorite rally anywhere. Alex has since run a few rounds of the European Rally Championship, including Rally Azores, so he may have a new favorite at this point. How about it, Alex?
Rally Finland is an event that tends to favor Scandinavian drivers, with only five non-Scandis winning the event since the advent of the World Rally Championship back in 1973. That said, there's been a bit of a Scandinavian dry spell as a "local" hasn't won the event since Latvala won it in 2010. Monsieur Loeb, the only non-Scandi to win in Finland more than once, won it in '11 and '12 (he also won it in 2008), and last year Seb Ogier took his first Finland victory.
For top contenders this year the safe money is on the ones who grew up driving these roads, but that really doesn't narrow your picks down much. Between Finland and Norway there are seven drivers entered at the top level. Hirvonen, Latvala, Mikkelsen, and Ostberg are all very strong picks this time around, and if I were ever to declare Ostberg a favorite to win a rally it would be now while he's still riding high from beating Marcus Motherfucking Gronholm at the Helsinki Battle. The Scandinavian wild cards are Henning Solberg, who has scored points in nine of his last ten WRC events, factory Hyundai driver Juho Hanninen, and Jarkko Nikara, who has three previous WRC starts, all in Prodrive Minis, with two no-scores and a fifth in Spain, so who knows how he'll do. Before you go filling your roster with Finns and Vikings though, do keep in mind that Sebastien Ogier is still Sebastien Ogier.
WRC 2, by the way, has a Finn as well, with Jari Ketomaa running one of the DMack-backed R5 Fiestas. Ketomaa has scored points in Finland twice in WRC-spec cars, and last year finished seventh in an R5 Fiesta, so he could sneak into the top 10 and steal some point this year as well. You know, just in case you were looking for a real sneaky dark horse pick. Other notable WRC 2 drivers include Ott Tanak, Karl Kruuda, and Fuck Matie.
And with that it's time to make some picks and start the ritualistic smacktalk. If you've forgotten the rules or are new to Fantasy WRC (WELCOME!) be sure to read them all here. Below are the WRC competitors entered for Rally Portugal. For the full entry list (WRC2 drivers, etc. Remember, you can pick any driver on the entry list) click here. And, as always, the data spreadsheets are available for you numerophiles.
VOLKSWAGEN MOTORSPORT
Sebastien Ogier - Avg points last 10 races: 22.6 / Avg points Finland: 16.5
Jari-Matti Latvala - Avg points last 10 races: 15.4 / Avg points Finland: 9.1
CITROEN TOTAL ABU DHABI WRT
Kris Meeke - Avg points last 10 races: 4.9 / Avg points Finland: 0.0
Mads Østberg - Avg points last 10 races: 8.6 / Avg points Finland: 5.4
M-SPORT WRT
Mikko Hirvonen - Avg points last 10 races: 7.1 / Avg points Finland: 12.8
Elfyn Evans - Avg points last 8 races: 5.5 / Avg points Finland: N/A
HYUNDAI MOTORSPORT
Thierry Neuville - Avg points last 10 races: 8.5 / Avg points Finland: 9.0
Juho Hanninen - Avg points last 10 races: 2.4 / Avg points Finland: 0.0
SINGLE CAR TEAMS AND INDEPENDENTS
Andreas Mikkelsen (VW) - Avg points last 10 races: 9.4 / Avg points Finland: 0.3
Robert Kubica (FORD) - Avg points last 4 races: 1.5 / Avg points Finland: N/A
Martin Prokop (FORD) - Avg points last 10 races: 4.5 / Avg points Finland: 1.0
Henning Solberg (FORD) - Avg points last 10 races: 6.1 / Avg points Finland: 5.0
Hayden Paddon (Hyundai) - Avg points last 2 races: 2.0 / Avg points Finland: N/A
Jarkko Nikara (Ford) - Avg points last 10 races: 3.3 / Avg points Finland: 0.0
Craig Breen (Ford) - Avg points last 1 races: 2.0 / Avg points Finland: N/A
Michal Solowow (Ford) - Avg points last 3 races: 0.0 / Avg points Finland: N/A
POINT-SCORING WRC2 DRIVERS
Jari Ketomaa - Avg points last 10 races: 1.6
Ott Tanak - Avg points last 10 races: 0.6