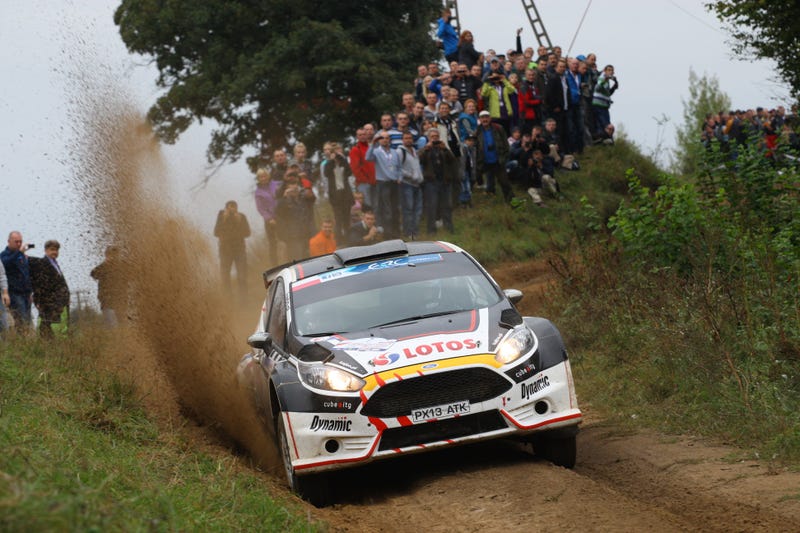 I'm back from another rally, it's late, and I have work in the morning. As a result this will be a short fantasy preview. Sorry for partying.
Poland is the big wildcard of the 2014 season. It's only been run once in the past decade as a WRC event, back when Citroen was racing the C4, Ford was racing the Focus, and a 21-year-old Mads Ostberg was racing a Subaru. Of the five drivers competing this year who raced Poland in 2009 four are with new teams. What I'm trying to say is much has changed since the WRC last visited Poland. Guessing who will do well here is pretty much just that, a guess.
That said there are three particular drivers to watch, all in Fords (which doesn't narrow it down, more than half the entrants are in Fords). Mikko Hirvonen was the winner the last time the WRC visited Poland. As the only Poland winner on the entry list he's arguably a favorite of sorts. Henning Solberg is also one to watch, he finished third here in 2009, and any place where Henning can get himself on the podium is a place worth noting. The third man to watch is Robert Kubica. His season has been... trying, but this time he has home field advantage. This is the one rally where he knows the roads and the road type better than any other competitor. Factor in how much he'll want to perform well and get a good finish in front of his home fans (and holy hell are Polish racing fans passionate and excitable) and he's definitely someone to keep his eye on. The only question is whether he's more likely to be careful to ensure his home fans can see him finish with points or push (too) hard trying to impress said fans and possibly damage the car.
And with that it's time to make your predictions as to who will make it through Rally Portugal unscathed. If you've forgotten the rules or are new to Fantasy WRC (WELCOME!) be sure to read them all here. Below are the WRC competitors entered for Rally Poland. For the full entry list (WRC2 drivers, etc. Remember, you can pick any driver on the entry list) click here. And, as always, the data spreadsheets are available for you numerophiles.
VOLKSWAGEN MOTORSPORT
•Sebastien Ogier - Average points last 10 races: 22.6
•Jari-Matti Latvala - Average points last 10 races: 15.6
CITROEN TOTAL ABU DHABI WRT
•Kris Meeke - Average points last 10 races: 5.3
•Mads Østberg - Average points last 10 races: 9.6
M-SPORT WRT
•Mikko Hirvonen - Average points last 10 races: 7.4
•Elfyn Evans - Average points last 7 races: 6.3
HYUNDAI MOTORSPORT
•Thierry Neuville - Average points last 10 races: 8.8
•Juho Hanninen - Average points last 9 races: 1.8
SINGLE CAR TEAMS AND INDEPENDENTS
•Andreas Mikkelsen(VW) - Average points last 10 races: 8.4
•Robert Kubica(Ford) - Average points last 7 races: 1.7
•Michal Solowow(Ford) - Average points last 2 races: 0.0
•Henning Solberg(Ford) - Average points last 10 races: 5.9
•Hayden Paddon(Hyundai) - Average points last 1 races: 0.0
•Martin Prokop(Ford) - Average points last 10 races: 5.6
•Krzysztof Holowczyc(Ford) - Average points last 1 races: 8.0
POINTS-SCORING WRC2 DRIVERS:
•Jari Ketomaa - Average points last 10 races: 1.5
•Ott Tanak - Average points last 10 races: 0.8
•Bryan Bouffier - No WRC2 Data (Deal with it)