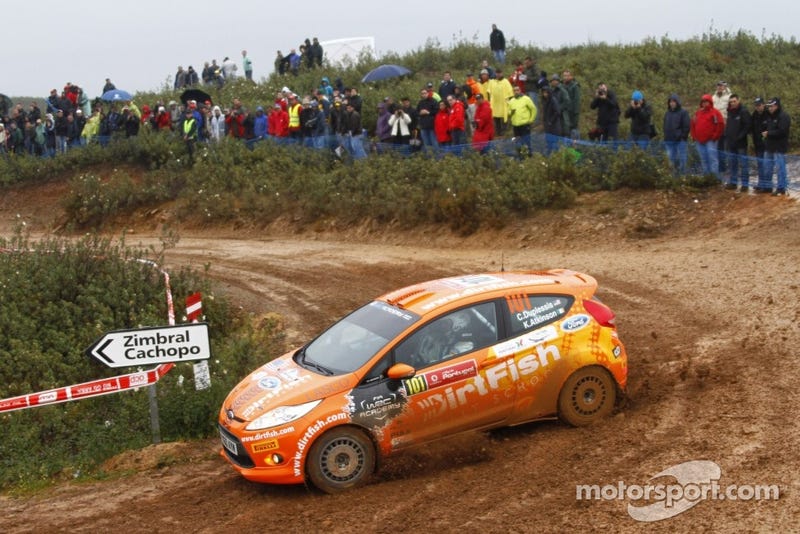 After yet another too-long wait we're back in action and back in Europe for the second gravel rally of the season, and if the opening gravel event in Mexico is any indicator it should be a good one. While the rally ultimately became yet another Ogier runaway more than half the WRC field was in the top three at one point or another, we saw the best ever stage finish of a R5 spec car, and Meeke and Kubica both demonstrated that they have the speed to battle at the front but haven't yet fully figured out how to keep it on the road.
Now, as for Portugal, our own Chris Duplessis could probably describe it better than I, as he competed in the rally two years ago (photo above), but I'll do my best. The roads are mostly fast and flowing with dropoffs, sections that are barely wider than the car, big jumps, big crowds, and very little margin for error. Even Loeb was caught out here just two years back. The loose gravel surface makes being among the first on the road, known as the "road sweeping cars" a significant detriment, though cars further back could well be slowed by dust if it's dry and windless. The one driver who seems to have it truly figured out is Sebastien Ogier, who will be going for his fourth straight win. Other drivers to watch include Mikko Hirvonen who has never finished outside the top 5 in Portugal, Dani Sordo who finished third three straight times in his Citroen (though he hasn't scored a point here since), and Mads Ostberg who got his first and only WRC win here.
As a side note, Canada's own "Crazy Leo" Urlichich will be making his WRC debut here, driving a Fiesta R2 (2WD, sequential gearbox, about 170 hp) in the DMack Cup. A couple weeks ago Leo ran his first ever European rally, competing in a national event in Spain, and was the second fastest R2 going into the final stage. Unfortunately he retired on stage but his pace over the weekend was impressive, especially for someone who had never rallied a FWD car prior to this year.
And with that it's time to make your predictions as to who will make it through Rally Portugal unscathed. If you've forgotten the rules or are new to Fantasy WRC (WELCOME!) be sure to read them all here. Below are the WRC competitors entered for Rally Portugal. For the full entry list (WRC2 drivers, etc. Remember, you can pick any driver on the entry list) click here. And, as always, the data spreadsheets are available for you numerophiles.
VOLKSWAGEN MOTORSPORT
•Sebastien Ogier - Avg points last 10 races: 20.8 / Avg points Portugal: 18.8
•Jari-Matti Latvala - Avg points last 10 races: 13.7 / Avg points Portugal: 5.7
CITROEN TOTAL ABU DHABI WRT
•Kris Meeke - Avg points last 10 races: 3.8 / Avg points Portugal: N/A
•Mads Østberg - Avg points last 10 races: 8.4 / Avg points Portugal: 7.2
M-SPORT WRT
•Mikko Hirvonen - Avg points last 10 races: 8.1 / Avg points Portugal: 14.0
•Elfyn Evans - Avg points last 4 races: 7.0 / Avg points Portugal: N/A
HYUNDAI MOTORSPORT
•Thierry Neuville - Avg points last 10 races: 12.6 / Avg points Portugal: 2.0
•Chris Atkinson - Avg points last 10 races: 5.2 / Avg points Portugal: 0.0
SINGLE CAR TEAMS AND INDEPENDENTS
•Andreas Mikkelsen (VW) - Avg points last 10 races: 6.1 / Avg points Portugal: 4.5
•Robert Kubica (FORD) - Avg points last 4 races: 0.0 / Avg points Portugal: N/A
•Ott Tanak (FORD) - Avg points last 1 races: 4.3 / Avg points Portugal: 0.0
•Khalid Al Qassimi (CITROEN) - Avg points last 10 races: 0.5 / Avg points Portugal: 2.0
•Dani Sordo (HYUNDAI) - Avg points last 10 races: 9.1 / Avg points Portugal: 9.0
•Martin Prokop (FORD) - Avg points last 10 races: 5.2 / Avg points Portugal: 8.0
•Henning Solberg (FORD) - Avg points last 10 races: 5.5 / Avg points Portugal: 3.0
POINT-SCORING WRC2 DRIVERS
•Jari Ketomaa - Avg points last 10 races: 1.6